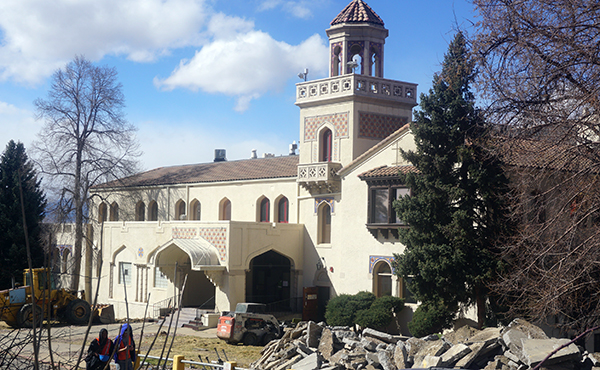 The 85-year-old former home of the El Jebel Shriners is now the centerpiece for about 75 new condos, townhomes and stand-alone houses planned for the Berkeley neighborhood in Northwest Denver.
Confluence Builders has started renovating Berkeley's El Jebel Shrine building on the Willis Case Golf Course into 25 new condos. The units will start at in the high $300,000s and top out at more than $1 million, said Laura Wnorowski, the Clear Creek Real Estate broker who will list the condos.
"It's walking distance to Tennyson Street, and the views from the property are amazing," Wnorowski said. "You can see all the way from Pikes Peak to Longs Peak on a good day."
The shrine is a 55,000-square-foot building that dates back to 1930, according to city records. Architects William N. Bowman and T. Robert Wieger designed the building, which served as home base for the El Jebel Shriners from 1930 until about August 2015.
The Shriners sold the building and about five acres of land to Koelbel Urban Homes for $4.5 million in 2014. The organization moved to a new building at 3443 S. Galena St. around August 2015.
Koelbel sold the El Jebel Shrine building to Confluence in a deal that closed last week, but Koelbel maintains ownership of the undeveloped land surrounding the building.
Confluence will spend about $12 million to renovate the building, according to a company press release. In addition to the one-, two- and three-bedroom condominiums, the building will have a gym, clubhouse and exterior patios for the residents.
The project will be called Mirador at Tennyson. Wnorowski has started keeping an interest list and hopes to start signing contracts in May or June. The first move-ins are slated for the first quarter of 2017.
Craine Architects is designing the El Jebel building's renovation.
While Koelbel Urban Homes won't have a hand in the shrine renovations, the company is working on 51 new homes on the surrounding acreage.
Koelbel's plans call for six detached houses and a row of paired homes on the block bounded by Utica Street, Vrain Street and 50th Avenue. The company also will build townhomes flanking both sides of the shrine and larger, 2,600-square-foot homes on the far west side of the property.
Site work is underway and Peter Benson, Koelbel Urban Homes senior vice president, said homes should start rising this spring. The smallest of Koelbel's homes will cost around $600,000, with the largest topping out at about $1 million, Benson said.
"We'll have homes exposed to the golf course on three sides of the community," he said. "It's a great location and a unique opportunity to do urban infill but still be fronting a lot of open space."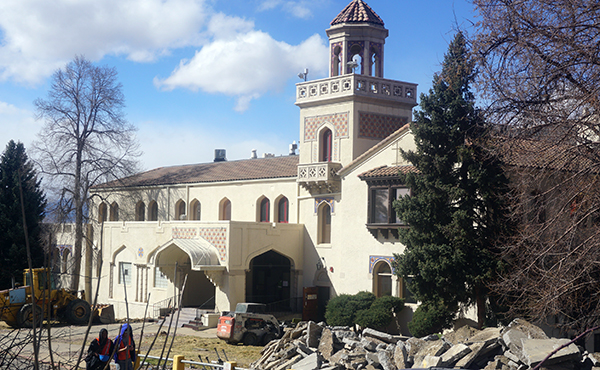 8025