Most shirt makers are in the business of selling shirts, not buying them.
But Steve Weil reckons that his family's Western apparel company, Denver-based Rockmount Ranch Wear, has sold 1 million shirts in its 70 years of business.
Buying back a thousand or so is a drop in the bucket.
Weil, 58, said he started collecting Rockmount shirts 40 years ago as historic artifacts and works of art. But he also thinks preserving old merchandise keeps his father's and grandfather's vision for the brand: shirts that recall an old Western lifestyle, but aren't just for cowboys.
"My whole goal is to break out of the box and to bring Western-inspired fashion to the general public," Weil said. "That's the inspiration my grandfather gave me: That it always has to be distinctive, and if it's already out there, then we should do something else."
Today, distinctive means short-sleeved Hawaiian shirts or Western shirts with unusual prints. Rockmount's line includes a shirt with marijuana leaves called the "Cannabis Cowboy" that sells for $100 in a short-sleeve Western cut. Long-sleeve printed shirts include a black-and-white print with skulls and American flags for $110 and a mobile design, inspired by mid-century painter Paul Klee, for $85.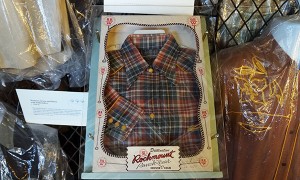 Since he started saving old Rockmount shirts in high school, Weil has amassed an archive that overflows the balcony of the company's only retail location, at 16th and Wazee streets, and winds its way into a back room crowded with shirt racks.
There are shirts with breast pockets shaped like half-moons; women's shirts with zigzagging, diamond-shaped buttons down the center; and shirts with multicolored embroidery around the collar and shoulders.
Some of the shirts Weil has collected date back to when his grandfather, Jack Weil, started Rockmount in 1946.
With a slim fit and snap-on buttons, the shirts were designed not to tear or catch on fences when ranch hands and cowboys wore them at work.
"I give him full credit for creating this market," Weil said of his grandfather. "But markets change."
Another big change came in the first decade of this century, when Weil convinced the rest of the family to turn its longtime office on Wazee Street into a retail space. It opened in 2005.
As a wholesaler, Rockmount never wanted to compete with the mom-and-pop Western apparel stores that were its main customers. But as those retailers scaled down and LoDo property values climbed, Weil thought the company needed to get more out of its downtown real estate.
Filling the store with old shirts and memorabilia helps Weil to refresh new shirts with old design elements he has rediscovered. And for customers, he said, the store feels like stepping into the past.
"We wanted it to look like it had always been here, and we're interested in a retail entertainment experience," he said, adding that watching store inventory helps him determine which designs are the most popular. "It put us in touch with the ultimate consumer."
Rockmount has about 100 employees today, Weil said, with 25 of them in Denver.
He said the company aims to maintain the business philosophy set by his grandfather and father. To avoid discounting its prices in bad times, Rockmount has grown conservatively in good times.
And, of course, Weil keeps tinkering with new designs, new prints and new details – just as the two generations before him would have wanted.
"That's how we keep it alive," Weil said. "Because trends come and go, but classics remain with us forever."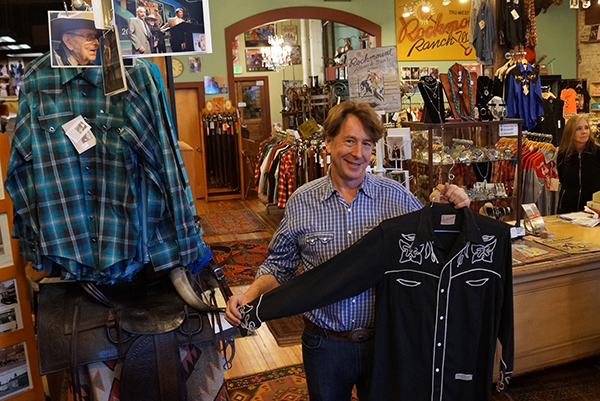 8017