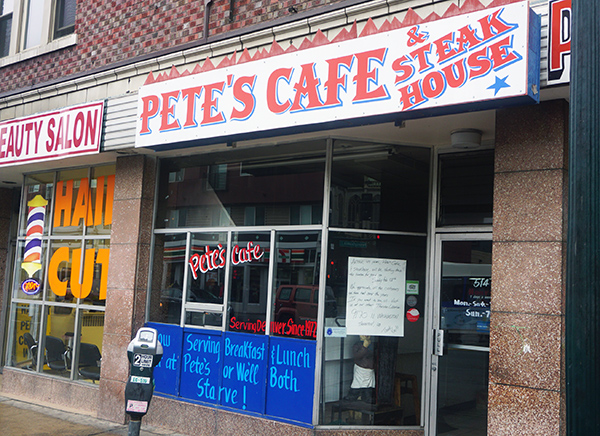 After feeding patrons on a major Denver thoroughfare for 44 years, a Colfax Avenue mainstay has gone dark.
Pete's Café and Steakhouse closed at the end of February after almost a half-century at 514 E.  Colfax Ave. Owner Pete Gatseos said he's ready to hang up his apron, and with a lease renewal looming, it didn't make sense to sign on again.
"I just want to retire," he said. "Colfax has gotten better over time, and if I get a new lease now, rent will go much higher."
Pete's Café – not be confused with Pete's Kitchen, owned by Pete Contos, which is farther east at 1962 E. Colfax Ave. – opened in 1972. It was a small, 10-table diner serving breakfast and lunch near the corner of Colfax Avenue and Pennsylvania Street.
Gatseos has been in the restaurant industry since the mid-1960s, he said, when he came over from Greece at age 16. He opened his first restaurant in Boulder in 1968. It did pretty well, but Gatseos said it was difficult to build up a steady base of regular customers in the college town.
"It was busy, but we didn't know anybody out there," he said. "So I moved downtown to where all my friends were."
Gatseos added two more restaurants during those 44 years. Pete's Café opened an Englewood eatery in 2009, but closed that restaurant in 2012. A third Pete's Café opened at 9170 Washington St. in Thornton in 2011 and remains open.
Gatseos, who lives in Aurora, said the location north of Denver has a better parking situation than the East Colfax site. Without dedicated parking, Gatseos said customers  always have had to feed the meters outside his Colfax diner.
And it used to be a much easier charge to swallow.
"It used to be something like a quarter for two hours," he said. "Now it costs a dollar and you get an hour, and people aren't going to do that."
Pete's Café will roll on in Thornton as Gatseos eases into retirement. His son and son-in-law operate the Thornton store. Gatseos said he'll be around the restaurant, just not behind the counter or in front of the grill.
Martin Duman owns the Colfax Avenue building Gatseos will vacate. It's a retail strip that also houses Jack's Market, Martha's Beauty Salon, La Abeja bakery and restaurant Prohibition. Duman could not be reached for comment on the plans for the Pete's space.
The Colfax location is mostly cleared out, save for a few features left behind and a sign in the window thanking customers. Gatseos said there are about two months left on his lease.
"I had some good times over there, I made good money there," Gatseos said. "But I've been there 44 years and I just want to retire."