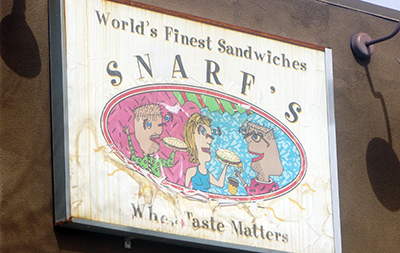 Snarf's is growing both its store and its menu in Capitol Hill.
The Boulder-based sandwich shop is expanding its 11th Avenue and Ogden Street location and hopes to add its burger concept, Snarfburger, to the Cap Hill eatery. Operations Director Doug Besant said this will give one of Snarf's busiest locations some much-needed space.
"That has always been one of our top three or four Snarf's, but it also might actually be the smallest Snarf's we have, so it's been stressed," Besant said. "Most of our stores get two deliveries from Sysco a week, but because it's so small, we have to have three deliveries a week."
The Snarf's at 1001 E. 11th Ave. now takes about 1,400 square feet, Besant said, but it leased the next-door storefront earlier this year. After the expansion, Snarf's will take up about 3,000 square feet, Snarfburger 900 square feet and they'll share a prep area.
The Snarfburger, which Besant said remains tentative, would be the first of its kind in Denver. Snarf's does have a Snarfburger in Boulder, in a 400-square-foot burger shack with a grill, fryer and custard machine.
Snarfburger sells burgers, fries, hot dogs and a few simple sandwiches, with custard and milkshakes for dessert.
Snarf's is replacing a laundromat that previously shared its Cap Hill building. The laundromat closed Feb. 25 and its washers, dryers and other equipment are gone.
Besant said the laundromat has subleased the space from Snarf's since Snarf's took over the lease earlier this year.
Besant hopes to start construction in late summer or early fall. He said Snarf's should stay open throughout the renovations, save for a week or so when it will have to close to spruce up the dining area.
Besant wants to open the expanded Snarf's and Snarfburger by year-end.
Snarf's will staff up with about 15 or 20 new hires, Besant said. He declined to say how much renovations will cost, but said it would be less expensive than opening a new Snarf's.
"We already have a bunch of the stuff we need in there," he said. "So it's not a ridiculously expensive endeavor."
Snarf's owner Jimmy Seidel opened the first Snarf's in Boulder 20 years ago and now has about 20 locations in Colorado, Chicago, St. Louis and Austin, Texas. The Cap Hill location opened about seven years ago and Besant said it's due to be freshened up.
"If you look at the Cap Hill location and compare it to the ones we've opened in the Highlands, or at Gunbarrel in Boulder, or at Larimer and Broadway, the look and feel and efficiency of Snarf's has evolved," Besant said. "Our goal is to maintain or improve the quality of our sandwiches, but also just make them a little faster in a little more user-friendly environment."