Cherry Creek's newest condo project – 250 Columbine – might soon have a different, unofficial name: "CEO Row."
The largest penthouse in the recently completed 250 Columbine development sold last month for $5.4 million, making it the most-expensive home in the Denver area to close in February.
The 4,400-square-foot penthouse's new owners are former US West CEO Richard McCormick and his wife. The couple will join a number of executives that have snapped up multimillion-dollar views and condo amenities since Western Development Group completed the $100 million project last year.
Dawn Raymond, an agent with Kentwood Co at Cherry Creek who listed the unit, said the penthouse's custom features include a wine room, walk-in pantry and remote-operated sound, window coverings and lighting systems.
"It's one-level living and really the appeal is to have everything within walking distance," she said. "And I think you need to talk about the location, because there are literally hundreds of shops and restaurants steps from their door."
And if you need to borrow a cup of sugar, just ask the CEO next door: City of Denver real estate records for the building read like a CEO directory.
Lee McEntire, CEO of TerraPower, a nuclear reactor design company, and former head of CH2M Hill, owns the second-highest-priced condo at $3.3 million for a 3,300-square-foot unit.
And Kevin Reddy, Noodles & Company CEO, purchased a 1,400-square-foot unit for $1.1 million.
Skier-turned-financial-services professional Otto Tschudi lives there, too. The 1968 and 1972 Olympian and managing director at Stifel Nicolaus, and his wife, purchased an 860-square-foot condo for $490,000.
Raymond said residents started moving into the development in November and that she will put the last four of its 71 condos, including the two remaining penthouses, on the market this month.
"There was never this type of product available in Cherry Creek," she said. "Frankly, I think I could sell a lot more of them."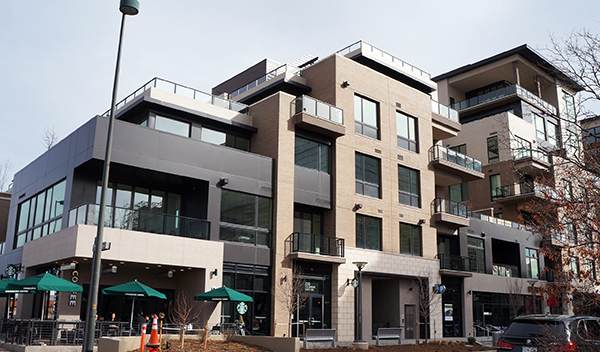 7864