Sports Authority grew online sales 42 percent in 2015, but it wasn't enough to counteract falling brick-and-mortar sales at lackluster locations.
On Wednesday, the beleaguered Englewood-based retailer filed for Chapter 11 bankruptcy to restructure $1.1 billion in debt while it looks to sell the business and shed underperforming stores. The company could close 200 of its 464 stores, according to bankruptcy documents.
Sports Authority, which lost $160 million in 2015 on revenue of $2.6 billion, said vendors were getting skittish from news reports about the pending bankruptcy.
Its online sales increased to $207.6 million in 2015, according to court documents, but the company still skipped a bond interest payment in January.
In an internal memo to employees obtained by BusinessDen, CEO Mike Fost said Sports Authority has struggled to compete as shoppers increasingly buy sports equipment and apparel online. He said the company will focus on beefing up its online presence as part of its restructuring.
"We intend to utilize the Chapter 11 process to streamline and strengthen our business operationally and financially so that we have the financial flexibility to continue to make necessary investments in our operations, such as making the right level of investments into our eCommerce platforms and IT systems," Fost wrote in the memo.
In a statement filed in bankruptcy court in Delaware, CFO Jeremy Aguilar similarly cited "increased competition from traditional and Internet retailers" among the factors pushing Sports Authority into bankruptcy. Aguilar also said Sports Authority missed changing trends, such as the decline of golf.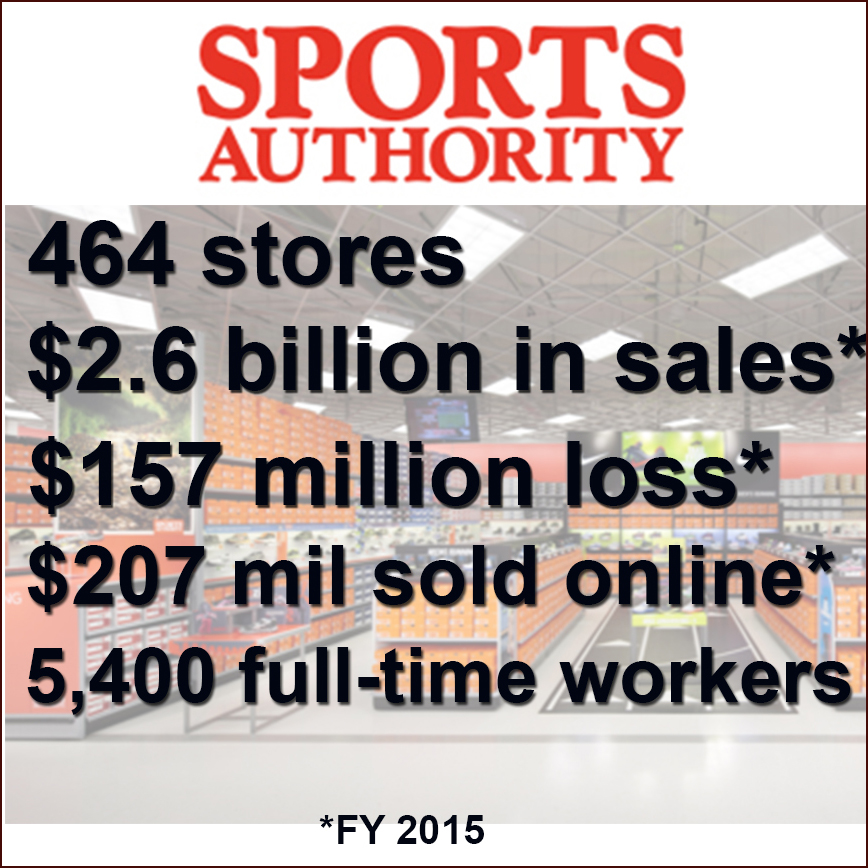 Aguilar also wrote that the company's history of mergers and acquisitions has led to "inconsistent store formats" that hamper sales, and that executive turnover and outmoded information systems contributed to declining revenue.
Among Sports Authority's creditors are major apparel brand names: Nike is owed $47.8 million, and Under Armour is owed $23 million.
In his statement, Aguilar wrote that Sports Authority owes about $178.9 million in trade debt to vendors. The statement also revealed that Sports Authority has about $22 million in cash and credit card receivables in its stores.
In the statement, Sports Authority describes the terms of a $595 million in debtor-in-possession financing agreement administered by Bank of America to supplement operating revenue during the Chapter 11 restructuring process. The agreement includes a clause requiring Sports Authority to close a sale of its businesses or its assets by April 28.
Private-equity firm Leonard Green & Partners bought Sports Authority in 2006.
Sports Authority is closing three Colorado stores: the Sports Castle in Denver, a location in Greenwood Village and a spot at the Twenty Ninth Street Mall in Boulder.
Last week, it also notified the state that it will close its 200,000-square-foot warehouse on Kalamath Street in Denver.
In January, the company laid off 100 workers from its Englewood headquarters.
Read more:
Bloomberg: Sports Authority Files for Bankruptcy With Plan to Slim Down 
Sports Authority missed out on the retail fitness wave that rival Dick's has been riding. Now it's trying to save on taxes and liquidate assets to keep afloat.
WSJ: Here's the List of Sports Authority Stores on the Block
Leases for 87 of the 140 stores flagged for closure have already hit the market.
Footwear News: 7 Athletic Brands Owed Big Money By Sports Authority 
Nike and Under Armour are just the start.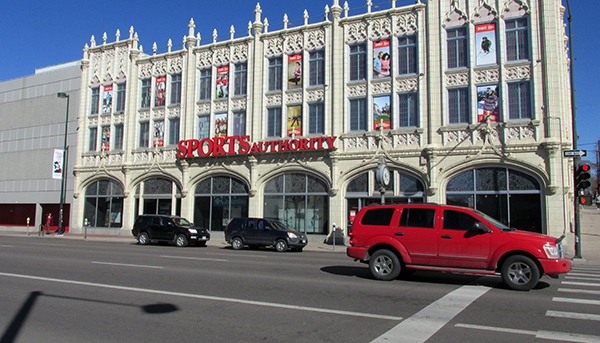 7842