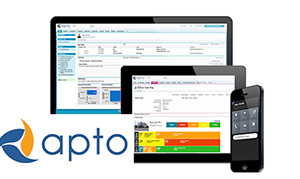 A Denver tech company that helps commercial brokers close deals is looking for office space of its own.
Apto, a commercial real estate software company, in the market for a permanent Denver office after outgrowing three suites at co-working space Galvanize's Golden Triangle building. The company also is boosting its Denver staff from 40 to 65 – six months after moving its headquarters from Texas.
"I think I was aware that Houston wasn't an ideal place to build a software company," CEO Tanner McGraw said. "The idea was that we would be able to acquire talent at a lower price, but we found it was more difficult to recruit talent."
Apto is a cloud-based commercial real estate platform for organizing leads, managing deals and handling back-office and accounting functions. The company currently has two suites at Galvanize and is taking out a third.
But as Apto ramps up its Denver operations, it's also looking for about 9,500 or 10,000 square feet of office space of its own. McGraw said he's looking at the LoDo and RiNo neighborhoods.
McGraw launched Apto in 2011 as a side project while he was working as a broker for Marcus & Millichap in Houston. He took the product to market in 2012 and left his brokerage gig for Apto full time in 2013.
Apto has had a Denver presence for about a year and a half now after bringing on a Denver-based CFO and setting up a small shop at Galvanize. McGraw said having some sort of office in town, however small, made it much easier to transition to Denver.
"All we did was turn off the hiring ads in Houston and turn them on in Denver," he said.
Apto has raised about $10 million since February 2014, McGraw said. The company was profitable at launch but dipped into the red to build out the startup after taking on investment. McGraw said he's planning to have the company running profitably again by the middle of 2017.
The company sells essentially three services to commercial real estate brokerages: A contact management system, a system for keeping track of deals as they move through the pipeline and a post-close system with accounting and invoice functions.
Apto bundles the contact-management and deal-management products and sells them for $89 per broker, per month. The back-office system sells separately for $29 per broker, per month. McGraw said the products are aimed at teams of about five or more brokers.
About three years after leaving the brokerage hustle, McGraw said he doesn't miss the thrill of the deal as much as he expected. McGraw said he was a decent broker, but wasn't the top guy in town, and he thinks there's more potential for growth in his commercial real estate software company.
He's also hoping to find a little more stability in the tech realm than the day-to-day deal chase.
"It's such a boom-or-bust business," he said.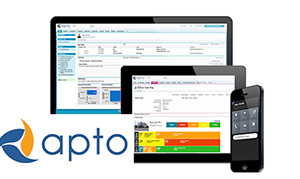 7661