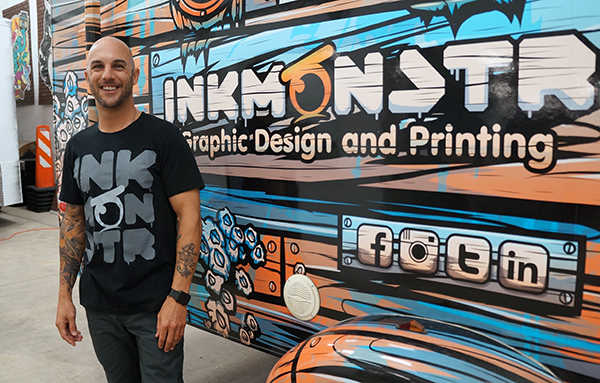 A Denver-based print shop known for wrapping tour buses and buildings is ready to wrap customers in its first apparel line.
Ink Monstr is making the jump into designing and selling straight-to-consumer apparel, a departure from its business of making large-scale prints for Red Bull and other brands.
The clothing and home goods collection launched on Wednesday, all of it designed by Ink Monstr's illustrators and printed at its headquarters just south of Mile High Stadium.
Founder Reed Silberman said the shift from business-to-business to consumer came from his desire to take full advantage of the company's graphic artists that design the prints for clients.
"We have all these artistic illustrators in house, who are supertalented, and we do all of these things for a lot of other companies," he said. "I specifically wanted to be able to use their skills to make our own apparel line."
The debut line includes T-shirts as well as throw pillows and mugs, many of them available in the same prints.
And he thinks customers will pay brand-name prices: Leggings cost $75 each, compared to $100 at Lululemon, and sweatshirts for $65, compared to $55 at Vans.
As for Ink Monstr's own name recognition, the company has courted a fan base since it started in 2007, Silberman noted. That includes throwing a series of hip-hop concerts and working with national consumer brands such as Volcom.
"I built an artistic lifestyle brand out of a print shop," said Silberman, speaking while at an apparel trade show in Las Vegas. "I'm here in Vegas right now and I've got people from around the country saying they know Ink Monstr. …They don't even care about the B2B stuff; they just know us as artists."
Silberman also has set up the apparel shop to please his own graphic artists, he said, since it gives them a chance to design without a specific client in mind and to get a cut of the profits on the items sold with their work. The shop has 15 full-time employees.
Each item is available only on the Ink Monstr website (http://inkmonstr.com) and printed by the order. The website will add a create-your-own option for customers to upload their own art, choose a product and print a single item for a premium.
And the business-to-business segment is also an option for apparel: Clothing brands also can hire Ink Monstr to print, cut and sew garments using that brand's designs as a white-label manufacturer.