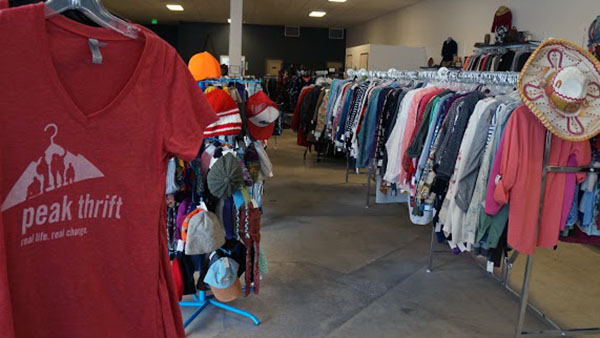 Give a man a shirt and you clothe him for a day.
But teach a man to sell shirts – and you might keep a shirt on his back for the rest of his life.
That's the thinking behind Peak Thrift Shop, a clothing and furniture store launched in January by the nonprofit Urban Peak, which provides shelter and job training for homeless youth.
For three years, Urban Peak planned to open a storefront in order to train kids for retail jobs. But instead, it decided on a thrift store, and found space at West 48th Avenue and Pecos Street in Chaffee Park. The address is 4890 Pecos St.
"We went into the whole venture with the idea that we wanted to have training programs for youth and we didn't want to lose money," said Chris Venable, who oversees the nonprofit's education and employment programs. "It's a business that's self-sustaining."
For one thing, overhead is low. Other than salaries and the cost of renovating a new retail store, Venable said all store merchandise comes from excess clothing, furniture and appliance donations to Urban Peak or the drop-off shed behind Peak Thrift.
Peak Thrift will be the latest second-hand store seeking donations to stock their racks in metro Denver. A cursory look at the second-hand market turns up 12 Goodwills and 14 Arc Thrift Stores in the area.
The store is training six people to become part-time workers. Venable said if demand to work in the thrift store is high, Urban Peak could train or employ as many as 36 people in the shop at a time.
And if the store turns a profit, the funds would fill a hole in the nonprofit's operating budget, he said, covering general expenses such as electric bills.
Since 1988, Urban Peak has provided overnight shelter, educational programs and transitional housing designed to help people ages 15 to 24 to recover from homelessness or to stay off the streets altogether.
Urban Peak's kids currently work for local restaurants, hotels, nonprofits and construction companies, according to its website. In addition to its sites in Denver, the nonprofit also operates a shelter in Colorado Springs.
Urban Peak's total revenue was $4.64 million in 2013, tax filings show, the largest portion coming from government grants. That was the most recent year for which revenue figures were available.
The 6,000-square-foot property is separated into retail and a back room to sort donations. When real estate broker Nathan Stern showed Urban Peak the space – one of 18 locations they visited together – it was abandoned and strewn with trash.
But the location was ideal because it's accessible by bus, Venable said. And now, after a $30,000 renovation by general contractor Kevin Charles of I-Kota, Venable thinks it looks more like a boutique than a thrift store.