The second time was a charm for a Cherry Hills estate.
Listed twice in the past 12 months, a home on the south side of Cherry Hills Village's gated Buell Mansion neighborhood sold for $6.5 million in January, making it the highest-priced home to sell in the Denver area last month.
The six-bedroom house at 16 Sandy Lake Road sold for $308.12 per square foot on Jan. 22. It was sold by MB Signature City Properties and listed by Nancy Wolfe of LIV Sotheby's International Realty.
"The house was on the market a year ago for a little over seven months and it didn't sell, so we took it off," Wolfe said. "But this time, the buyer saw everything else that was on the market and nothing compared to the extraordinary features this house had."
With its 2.5 acres and private pool, 16 Sandy Lake is among the largest plots in the neighborhood, Wolfe said. She added that properties typically start at $1.5 million on one-third of an acre.
The house sold for a notch below its $6.9 million asking price.
The house was built in 2007 and designed by Carlos Alvarez of the Denver-based firm Alvarez Morris Architects. Diamond Homes remodeled the master suite and kitchen at a cost of $1.5 million in 2012, Wolfe said.
Moving from the all-white furnishings of the kitchen, the great room sports a high ceiling crossed by dark wood archways and a seating nook around the fireplace.
Large windows built into the 21,320-square-foot house's limestone exterior overlook the mountains from nearly every room facing the backyard.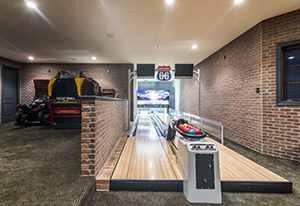 The house also boasts a home theater, wine cellar and bowling alley, as well as a caretaker apartment with a private kitchen and bathroom.
The property is a segment of the original Foster-Buell estate, located south of East Hampden Avenue and west of South University Boulevard in Cherry Hills Village. Today the area is a gated neighborhood built around the 90-year-old Buell Mansion.
The mansion, built around 1920, is now a clubhouse for residents living within the neighborhood's gates, Wolfe said, with rooms for overnight guests, tennis courts and a pool. Those amenities are a big draw for homebuyers weary of long wait lists to join some Denver-area country clubs, she added.