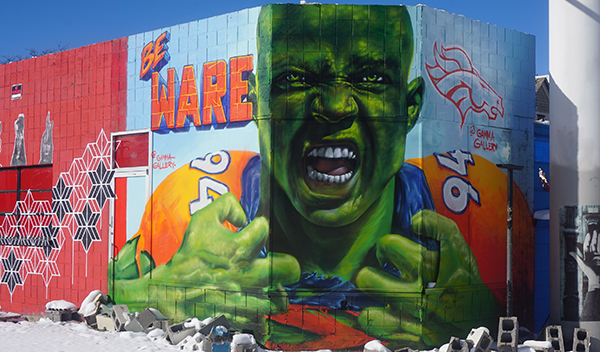 Ahead of Sunday's Super Bowl, a Denver car wash is sporting some fresh orange – and green.
A mural depicting Broncos outside linebacker DeMarcus Ware as the Incredible Hulk sprang up on Colfax Avenue last month in the midst of the home team's playoff run. The piece, signed by Gamma Gallery, is one of several murals now wrapping a former car wash at Colfax and Williams Street.
The Kentro Group development group owns the Colfax site. The company bought the 0.36-acre plot a year ago for $1 million. Kentro has gutted the building and plans a redevelopment.
Ware isn't the first Bronco that Gamma Gallery has sprayed on a Denver brick wall. Before the Super Bowl two years ago, the artist unveiled a 2-story-tall Peyton Manning on the side of the Monkey Barrel bar on Platte Street.