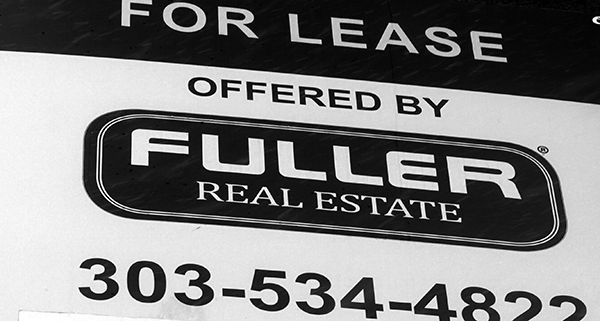 A Denver real estate veteran with more than 60 years in the business says it's time to double the size of his firm. And he thinks he has the bait to lure brokers to his new DTC space: 30 separate enclosed offices, and a lounge with a pool table and big-screen TV.
Fuller Real Estate leased 10,000 square feet for a new office at 5300 DTC Blvd. Company head John Fuller, 87, said he plans to double his 15-person commercial brokerage firm in the next year and is banking on a Denver Tech Center location to draw new staffers.
"There are a lot of brokers downtown that are unhappy downtown," Fuller said. "A lot of them like the Southeast, and we think we'll be building a facility here that will be very much to their liking."
Fuller Real Estate is based in a 3,800-square-foot office at Viewpoint II in Littleton. The company has a six-year lease on its new office and has put its current space up for sublease.
Move-in day at Fuller Real Estate's new office is March 1. John Fuller said many real estate brokers, including several in his own office, live near the Denver Tech Center and would prefer a shorter commute and easier parking south of downtown.
Plans for the new Fuller office call for 30 separate enclosed offices for brokers, a luxury John Fuller said many commercial brokerages lack. The company also is building "The Fuller Lounge," which John Fuller said will feature a pool table, massage chairs and "the biggest TV we can buy."
"We're spending a lot of money here, but we're doing it because we want to attract the best employees," he said.
John Fuller founded Fuller Real Estate in 1955. He brokered his first deal in Denver about five years earlier – a six-unit apartment sale Fuller thought he had lost when a plane roared right over the building before landing at Stapleton Airport during a showing.
At its largest, he said, Fuller Real Estate had about 300 employees. In the 1980s, Fuller sold 80 percent of his company to an investment firm that eventually was bought by Canadian-based Royal LePage, and Fuller Real Estate shops opened in markets around the country, including Los Angeles, San Francisco, Chicago and Atlanta.
Fuller later bought back ownership of the company's Colorado office, he said. His shop was in downtown Denver until five years ago. Around that time, a portion of Fuller Real Estate branched off to join Cassidy Turley. John Fuller took his company to its present Littleton location.
Right now Fuller's Denver office has about 15 brokers. Fuller Western Realty, a separate wing focused specifically on buying and selling ranches, has another four between Colorado and Wyoming.
John Fuller said he would like to add a few more industrial, land and apartment brokers to the staff and already is talking to potential hires. After more than 60 years in Denver real estate, Fuller said he knows where to look to find them.
"I hired half of the guys downtown," Fuller said. "So we know them very well."
After scaling up to 30 or so brokers in the new office, John Fuller said he's not sure how much bigger the firm will grow. Fuller said he'll defer that decision in part to the other brokers in the office, 11 of which share an ownership stake in Fuller Real Estate.
"I enjoy seeing the guys around the office become very successful," Fuller said. "A good broker with this company, if you're smart and work hard over 10, 20, or however many years, will become a millionaire."