A new lab at the Colorado School of Mines aims to lighten the cost of heavy metal manufacturing.
The Golden university won a $2.5 million grant this week to make the process of turning metal into high-tech products like satellites faster and cheaper.
The funds, from the Colorado Office of Economic Development and International Trade, will let the school purchase the equipment it needs to analyze metal parts made with 3-D printers.
3-D printers are already being used to make jet engine parts, said Douglas Van Bossuyt, one of the lab's award recipients and a professor of mechanical engineering. The problem is that those parts are not yet as cost-efficient as more conventionally made competitors, he said.
"The big enemy of anything going into space is money," Van Bossuyt said.
Parts made with 3-D printers are often heavier than equivalent parts made using a traditional casting process, Van Bossuyt said. That makes them more expensive to produce and to launch into space.
"Every pound of stuff going into space is $10,000, so shaving weight shaves money," he said. "But with things that are 3-D-printed, they're not as well understood, so the factor of safety is much higher."
Because engineers have only started to study 3-D printed materials, Van Bossuyt said, manufacturers have erred on the side of sturdiness (and heaviness) when certifying 3-D-printed components. They can also be expensive in time and money, he said, because 3-D printers produce many faulty parts for every successful part compared to tried-and-true casting methods.
To address both of those problems, Mines will purchase equipment to test 3-D-printed samples, looking into how closely they fit designs and how much pulling and pushing they can withstand.
Researchers will add findings to a database they're compiling. It'll show which printer settings lead to industry-certified studs and which lead to duds.
"It will help us to intelligently understand what knobs to adjust to get the printed characteristics that we want," Van Bossuyt said. "Companies that are working with the center can make sure that their 3-D printers are calibrated correctly."
Another Mines mechanical engineering professor, Aaron Stebner, will share the $2.5 million grant with Van Bossuyt.
The lab will run on a consortium model, in which companies pay a fee to set the lab's research agenda. In addition to this week's grant, Mines has received $4.5 million from four aerospace technology companies that will be its first consortium members: Lockheed Martin, Ball Aerospace, Faustson Tool, and Manufacturer's Edge.
The consortium one day hopes to count advanced manufacturing, bioscience, energy and infrastructure companies among its members. Van Bossuyt said he has already been approached by branches of the U.S. military and foreign entities to be future members.
The grant will cover the first 12 months of operations and startup costs, Van Bossuyt said. In that year, the lab will study nickel and titanium-made parts.
After that, the plan is to use the fees paid by consortium members to hire more researchers and to cover operations costs. Van Bossuyt said the lab has not yet set a membership fee.
The lab will occupy 2,200 square feet in the new CoorsTek Center for Applied Science and Engineering. The university announced in June that Bohlin Cywinski Jackson and Denver-based Anderson Mason Dale had been hired to design the $50 million, 100,000-square-foot center. It begins construction in early 2016.
Colorado School of Mines is one of five grant recipients to receive a collective $4.35 million from the Colorado Office of Economic Development and International Trade. The Advanced Industry Accelerator Grant Program supports infrastructure projects designed to spur collaboration in high-tech industries. Here are the remaining grantees:
– Catalyst Campus: $750,000 to build a Cyber and Space Operations Center in Colorado Springs.
– Telluride Foundation and Fort Lewis College: $300,000 to encourage high-tech research in a project called the Southwest Innovation Corridor.
– SolarTAC: $500,000 to add to a 74-acre renewable energy outdoor testing ground in Aurora.
– Manufacturer's Edge: $300,000 to develop a pilot program with the Small Business Development Center.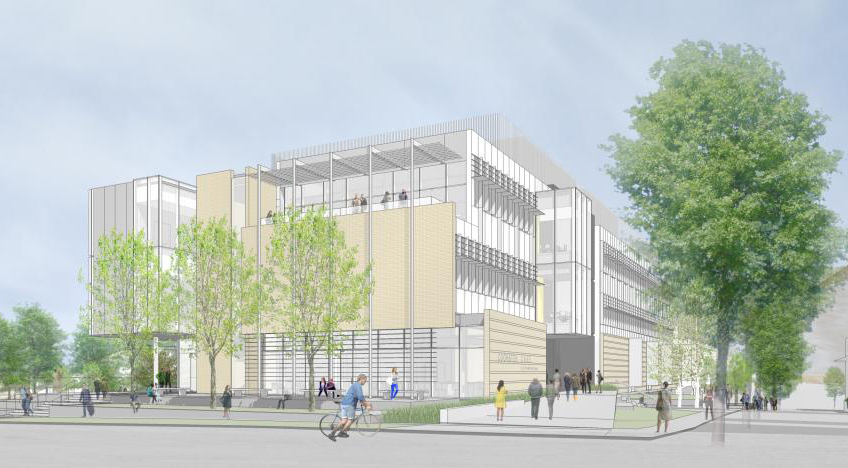 6512