A Westminster solar panel startup has raised $5.45 million, SEC filings show.
World Panel's product, called the SunStream, is a portable way to charge mobile devices without using a battery.
Founder and CEO John Anderson said the raise will be used as World Panel makes new hires and seeks more space for its solar panel plant in Westminster.
SunStream edges out the competition because it's cheaper to make and hardier to use, Anderson said.
"It's unmatched in efficiency and durability, with an unlimited market," he said. "We eliminated all internal batteries and chip sets. Light hits the panel and – bam – you've got electricity."
Anderson said he had an epiphany about the demand for solar-powered mobile charging on a 2011 visit to a part Uganda that's off the electric grid. He realized that many of the people he met were frustrated with the fickle solar-powered battery packs they used to charge their phones.
By that time, Anderson was certified to engineer and install solar panels and managed solar panel component sales in North America for German manufacturer Krempel Group.
So when he came back from Uganda, Anderson said he spent the next two years tinkering with smaller panels in his garage in Boulder. He came up with the prototype for SunStream in March 2013 and received a U.S. patent for the technology in July.
World Panel has raised $12.7 million in equity since 2014, SEC filings show. The money has propelled World Panel from a garage to a 12,000-square-foot solar panel plant in Westminster, Anderson said, and from five full-time employees this time last year to 40.
SunStream currently retails exclusively in South Africa, where it debuted last month. The price tag is $20, Anderson said.
World Panel is planning to expand geographically in the coming months. Anderson said he's looking at Mozambique, Botswana and Zambia in particular – and already holds patents in parts of Asia, Africa and Europe. SunStream will launch stateside in 2016, he added.
The product will evolve, too, Anderson said.
Right now, the SunStream is designed to charge smartphones and similar small, handheld devices at the same speed as a wall plug. To charge slightly larger devices at the same speed, Anderson said, the company is planning to release a product with larger panels.
World Panel's office, which is next to its plant, is at 11025 Dover St. near the Rocky Mountain Metropolitan Airport.
World Panel sold $5.45 million of a $15 million target in its latest funding round, which opened Dec. 1 and closed Dec. 14. Eighteen investors contributed, SEC filings show.
Anderson said he's anticipating a future when every person carries their own personal grid with them.
"Everybody in the world is going to generate their own electricity," Anderson said. "This is about energy parity, new energy delivery for everyone under the sun. Our competitor is the grid."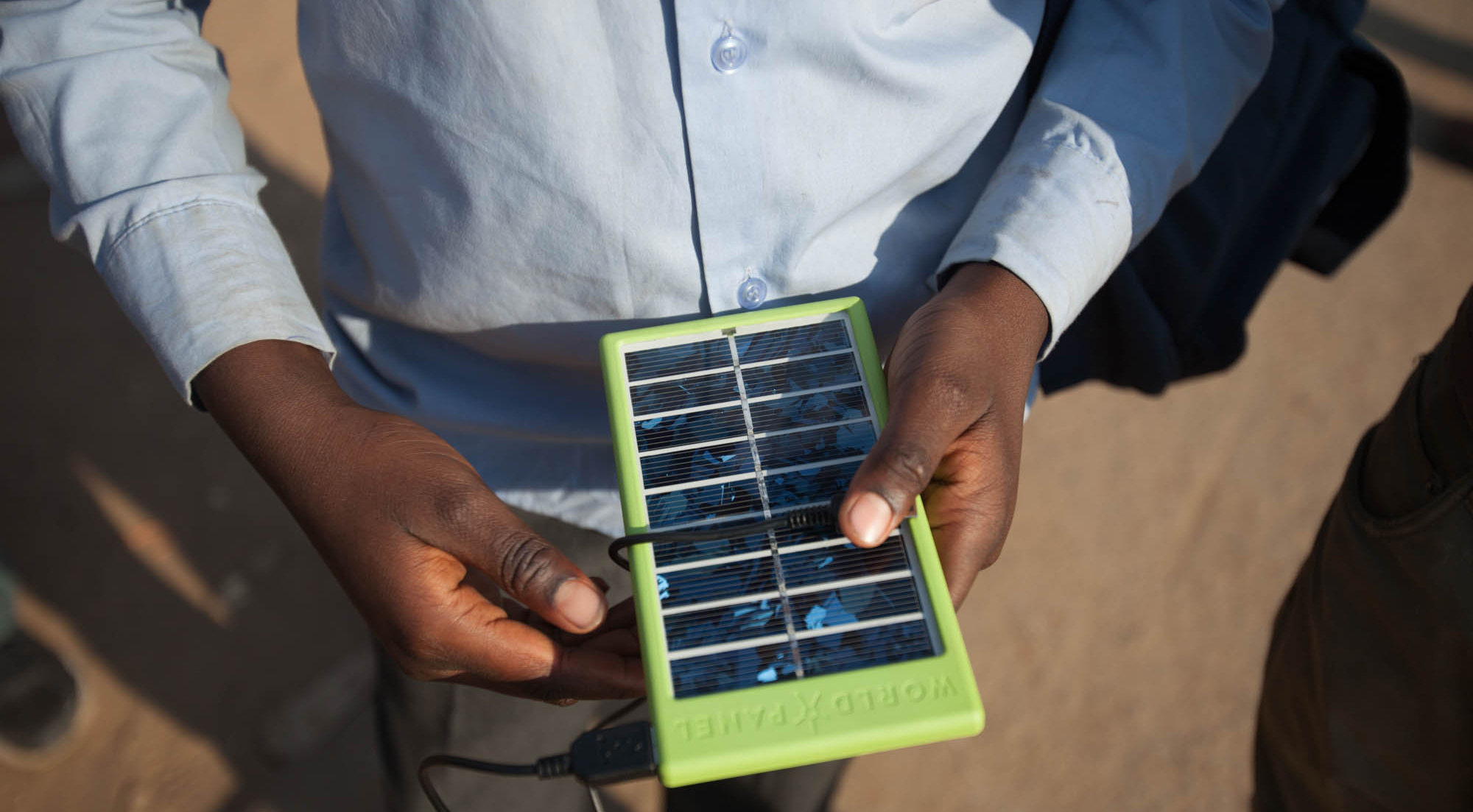 6493