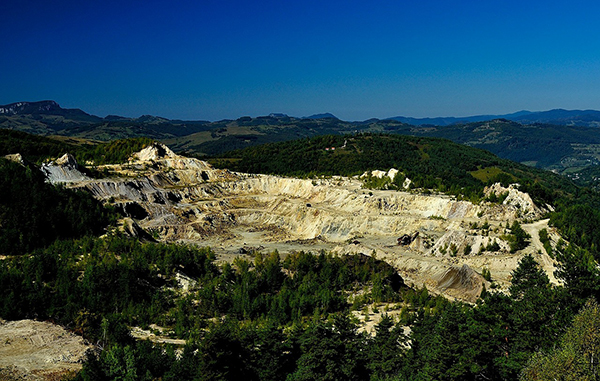 Citing low gold prices, a Colorado-based mining company is digging into bankruptcy.
Golden's Atna Resources filed for Chapter 11 bankruptcy on Nov. 18, owing $19 million to an affiliate of Waterton Global Resource Management of Toronto, Canada. In a press release Thursday, Atna said sagging gold prices and several other factors chased it into bankruptcy.
"The low gold prices in 2015, the continued indifference in the market for gold company equities, a lack of capital in the mining sector, a lack of development capital and operating issues resulting in a significant shortfall in third quarter gold production at the Pinson mine, and a depressed market for the sale of idled mining equipment all negatively impacted the company's outlook and led to the company's current liquidity problems," Atna President and CEO James Hesketh said in the statement.
As of Nov. 17, Atna had just $200,000 in cash, down from $2.2 million in December 2014.
Atna is headquartered at 14142 Denver West Parkway and has a total of 46 employees, according to the court filing. The company said it would continue to operate its business in bankruptcy as a debtor in possession.
To do so, Atna has requested the right to receive a $4 million funding package from its existing creditors, according to the Chapter 11 filing. Without that money, the company said, it could be forced to liquidate.
About a year ago Atna began to slow production at its Briggs mine in California, opting only to process residual gold and to sell some portion of existing equipment and inventories, according to court filings. This summer, the company said it had whittled down its Briggs workforce from 140 to 20 employees and shut down most operations there.
In recent months, gold ore production at its Pinson mine in Nevada fell short of expectations due to delays in developing certain ore zones, court filings said.
Atna said it is attempting to sell both core and non-core assets, including the Pinson and Briggs mines, to restructure the business.
Besides the price of gold, the company cited weak market interest in gold company stocks, a sector-wide lack of capital, poor production at Pinson and low prices for mining equipment.
"These issues have severely limited the debtors' ability to raise new capital, to refinance its debt, or even to sell itself," a court filing said. "While the debtors believe their assets have significant value that can be realized over time, these recent events have created a critical build-up in payables and a severe shortage of liquidity."
Atna has hired Maxit Capital as its investment banker. Stephen D. Lerner, Peter R. Morrison, Andrew M. Simon, Nava Hazan and Aaron A. Boschee of the law firm Squire Patton Boggs will serve as counsel to Atna. Lerner and Atna representatives did not return calls seeking comment.
Atna's indirect parent company is simultaneously seeking bankruptcy protection in Vancouver, Canada.