Construction crews won't finish the Stanley Marketplace until 2016, but one tower on the property opens this week.
The 26-foot tower, Tyvek siding intact, doesn't look finished. But it's by design. The piece is a temporary art installation commissioned by Black Cube, a nonprofit art organization that has no permanent exhibition space. Director Courtney Stell said the piece is meant to be a dissonant echo of the construction sites around it.
"Is it a building? Is it a sculpture?" Stell asked. "The piece looks extremely finished and extremely unfinished."
"New Brutal" debuts Thursday in the Stanley's former aircraft hangar and will be open through Dec. 12.
The three-floor tower gets its name from the Brutalist architecture style from the 1950s through 1970s. Artist Derrick Velasquez left much of the framing and plywood exposed, interspersing it with white crown molding custom made by Denver-based architecture and design firm Von Mod.
Velasquez is the first artist from the Denver area that Black Cube has worked with since it launched earlier this year, Stell said.
"It absolutely relates to a moment that the city is in right now," she said of "New Brutal." "It offers a moment for discussion and reflection about all kinds of issues around the building boom: what we see as beautiful, what we see as ugly."
But despite Denver's wave of new construction, scarce warehouse space nearly did the project in, Stell said. The curator started scouting sites for "New Brutal" in January, she said, but every time she found a warehouse in Denver, a marijuana grower would sweep in and outbid her.
But then Stell stumbled across the Stanley site. In April, she met Mark Shaker, a partner with Stanley Marketplace developer Flightline Ventures. He offered the Stanley as an in-kind donation and has since sweetened the deal by letting Black Cube use construction equipment on-site, Stell said.
"New Brutal" cost $18,000 altogether, she said, including a stipend for the artist, the construction supplies and marketing expenses.
But the long hunt for warehouse space speaks to the challenges of thinking outside the traditional gallery box, Stell said. Black Cube eschews the operating costs of a brick-and-mortar gallery – no one has to pay an electric bill, for example – but Stell has to worry about permitting for every single site the nonprofit uses.
Black Cube's first pop-up project was a piece by artist Desiree Holman titled "Sophont in Action" at the Trading Post at Red Rocks. Its next installation, an air-filled piece called "The Prospector" set in a parking lot outside the Capitol, was just deflated as construction on "New Brutal" started last week.
Each new location is its own learning curve, Stell said, from finding space to working with a new artist.
"I have to relearn every single site," she said. "Folks that own parking lots aren't necessarily comfortable with 40-foot inflatable sculptures."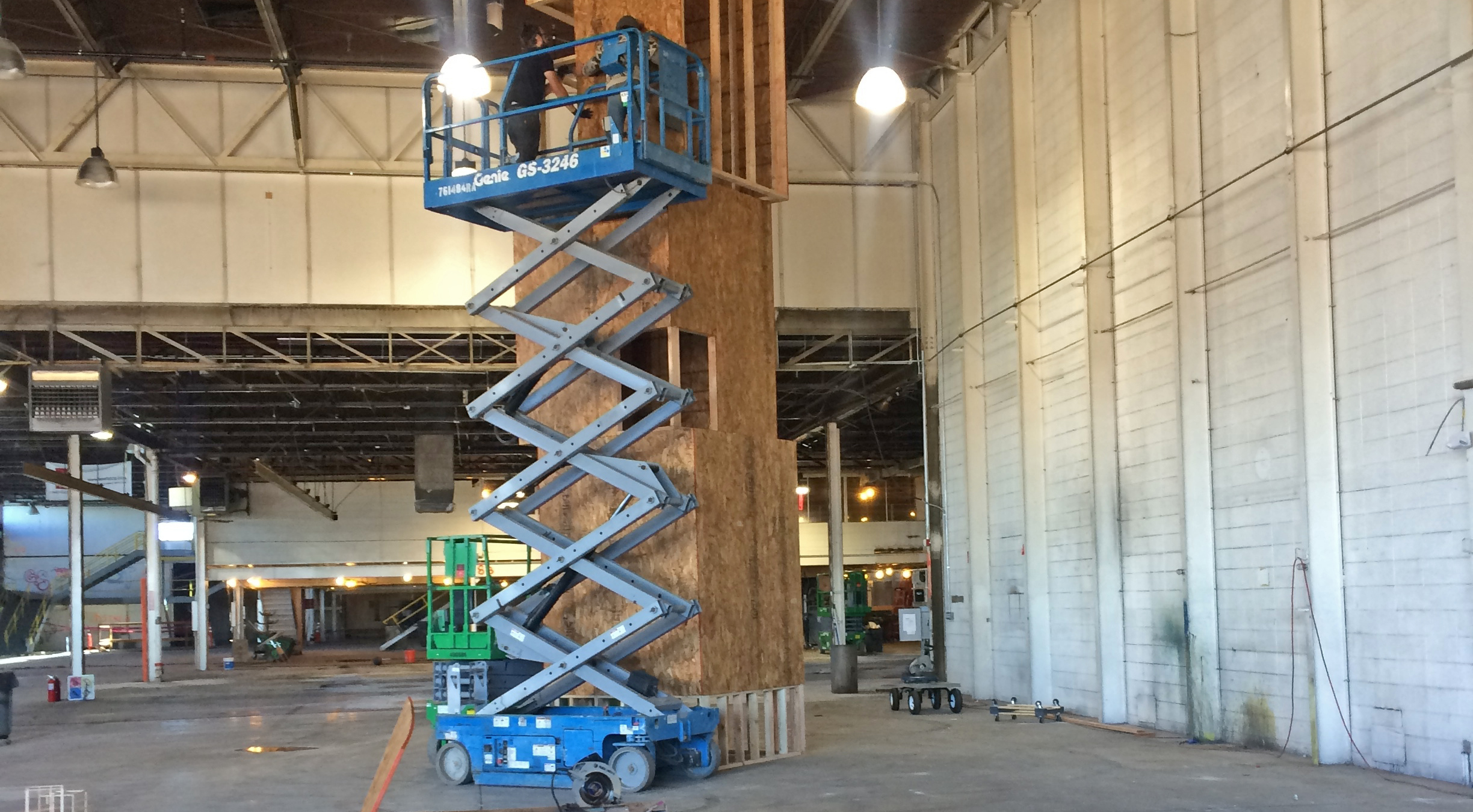 5813