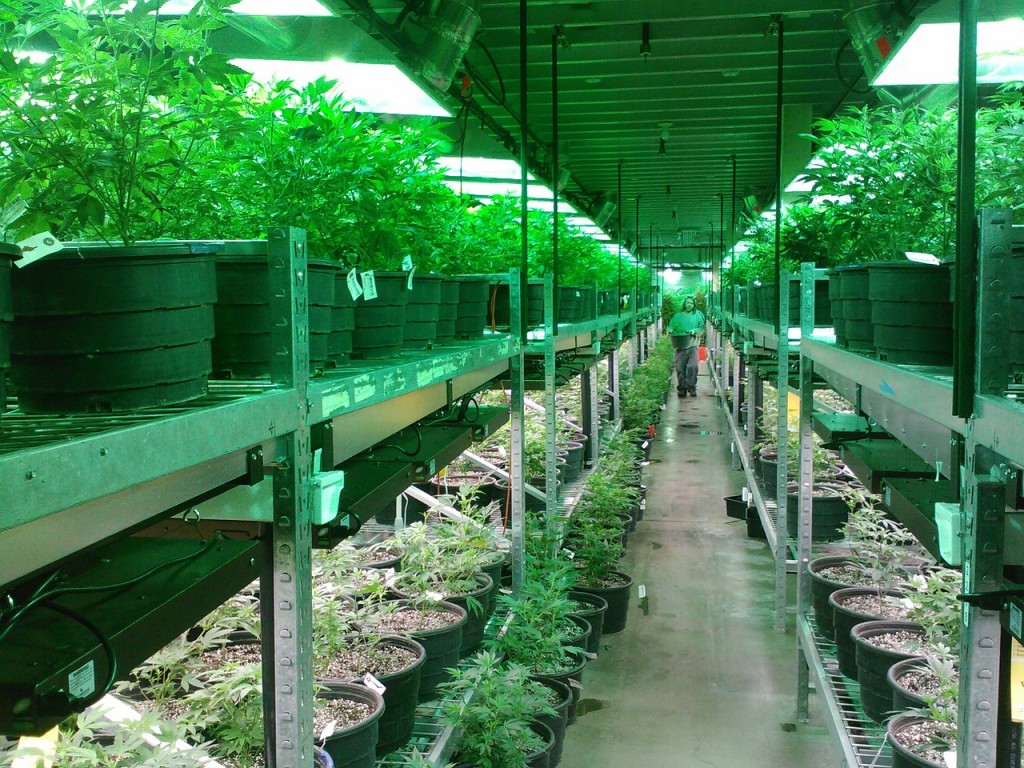 With the smoke clearing after a 5-year marijuana real estate run, pot growers are now an almost 4 million-square-foot player in Denver's industrial real estate market.
According to a CBRE report released last month, marijuana growers have accounted for 36 percent of all new industrial leases between 2009 and 2014 and now take up 2.6 percent of all Denver warehouse space.
That figures to 3.7 million square feet of industrial space, a number CBRE broker Paul Kluck said is about right for today's marijuana business.
"The rush to the market that occurred in 2013 was unprecedented and will never occur again," Kluck said. "The supply is enough for the current demand. Since this industry has been operational for almost two years now, you would think that demand is somewhat predictable at this point."
Average leasing rates for the lower-quality warehouse space in popular marijuana growing submarkets have climbed from $4.06 to $6.34 per square foot. High demand for a small subset of suitable warehouse space has marijuana growers paying two or three times the average rate for warehouse space, according to the CBRE report.
Kluck said marijuana producers are all chasing a tiny sliver of the market, searching for buildings that do not have traditional loan debt on them; are located in industrial zones 1,000 feet from the nearest residential-zoned plot; and have enough electrical power to run grow lamps and an equally impressive HVAC system to handle the heat.
Unique Properties broker Phil Yeddis said warehouses are now on a two-tiered pricing system. There's one rate for a well-located warehouse that could host a grow operation. Put the same warehouse within 1,000 feet of a residential zone and rates will drop significantly.
"The marijuana guys could afford and were willing to pay more for traditional space because they needed it and there wasn't a lot out there," Yeddis said. "Marijuana rates are still above the market, and if you get a second-generation space and it's zoned for marijuana, you can command a top-of-the-market price and probably get it."
But tenants are pushing to keep second-generation grow houses off the market. Yeddis said leases typically run between three and five years, but tenants are pushing for more time to spread out the upfront investment of outfitting a marijuana growing facility.
Sometimes tenants will also negotiate for a first right of refusal should the landlord decide to sell the building, Yeddis said.
The pool of available property is unlikely to get much bigger, Kluck said, and the Denver industrial market is doing well enough now aside from the pot business. With well-established corporate tenants fishing for space, it's not worth the effort or the investment to build pot-specific products.
"If you're going to build a building for an industrial user, you're not going to want to limit your construction to one tiny subset of the market," Kluck said. "If you're building to capture just that little bit of demand, that would be kind of silly."
Yeddis said growers have started building greenhouses, but those are usually owner-users cultivating their own product and not investors looking to lease a greenhouse.
"There are people that feel that greenhouse is the way to go versus the traditional industrial building because the cost of a greenhouse is much less," he said. "There's tremendous amounts of costs involved with HVAC, power, water and everything like that."
The demand side has also started to settle, Kluck said, and the growers who are already in the business are likely to be the same ones that will continue to produce Colorado's marijuana. A Denver moratorium prevents marijuana growers who weren't already in the medical business by fall 2013 from applying for new recreational marijuana licenses.
On the sales side, the marijuana business has made buying warehouse space significantly more expensive. Kluck said he remembers selling an older industrial building for about $55 per square foot in June 2013, just before the U.S. Department of Justice said it would not interfere with the recreational marijuana business in Colorado and Oregon.
With the risk from the federal government removed – and tenants eager to lease space and start making recreational marijuana – Kluck said the next warehouse he sold went for $70 a foot.
CBRE's report said investors paid upwards of $80 per square foot in 2014.
Moving forward, Kluck said the marijuana industry has about as much space as it will likely need, and its 3.7 million square feet will shuffle between established growers. As with any business, the strong companies will keep growing and the others will blow away.
"The guy that just thinks all I have to do is put something out there and make a fortune – they're actually going to go out of business," Kluck said. "I like to say the lessor competitors will be weeded out."