Stapleton homebuilders have started marketing homes in the former airport's 10th neighborhood, a 50-acre project near Dick's Sporting Goods Park.
A handful of builders contracted to buy land in Wicker Park started selling homes earlier this month, master developer Forest City Enterprises said.
The 50-acre neighborhood will include 242 single-family homes, the company said. It takes its name from the 0.75-acre park intersected by a one-way street in the middle of the development.
"We've focused attention on the center with a lovely formal park, including a playground and open space," said Forrest Hancock, a Forest City development manager. "Traveling northward, residents can enjoy Boston Street, which will be a brick sidewalk-lined driveway with homes fronting it on both sides."
Northfield High School, a Denver public school, opened this fall at the north end of Wicker Park. The Shops at Northfield Stapleton are 1.5 miles southwest of the neighborhood limits by car. A 2-acre plot in the southwest corner has been set aside for apartments.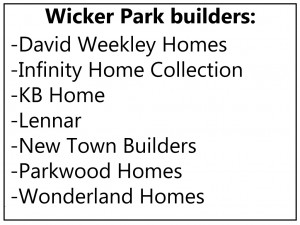 Forrest City has contracted seven builders to offer 14 different styles of home for sale, both attached and detached models, said Lisa Hall, Stapleton's builder program director.
The largest properties will have five bedrooms in up to 3,800 square feet, while the smallest will be two-bedroom homes with 1,100-square-foot floor plans. Homes are priced between $200,000 and $800,000.
"It's for everybody. We'll get singles, families without children, families with children," Hall said. "But also, we'll get boomers."
Just a handful of houses are now under contract and starting construction, Hall said, but that could change quickly.
"I would imagine that this neighborhood will be sold out by the beginning of next year," she said.
The 7.5-square-mile Stapleton development is located on the north side of Interstate 70 on the old Stapleton International Airport, which closed in 1995. Forest City broke ground on the project in May 2001.
Wicker Park is the third Stapleton neighborhood north of I-70, along with Willow Park East and Conservatory Green.
Homebuilders have sold around 6,500 new homes in Stapleton, Hall said. The entire development currently has about 13,000 residents and is 75 percent developed, Hall said.
"Next, we go north of 56th avenue," she said.