A $2 billion Front Range hospital system crossed one of the nation's biggest health insurance brands when it freshened up its logo and added a splash of blue.
Broomfield-based Sisters of Charity of Leavenworth Health System (SCL Health) this week sued the Blue Cross and Blue Shield Association (BCBS) in U.S. District Court, hoping a judge will give it the rights to its updated blue and green logo painted on hospitals and clinics after a year of legal wrangling.
SCL Health also claims in the suit that BCBS – a federation of 36 independently owned and operated insurance companies including Anthem in Denver – is threatening to remove SCL's facilities from the Blue Cross Blue Shield network. In Denver, that could mean Anthem customers would likely pay more for care if they went to an SCL facility, such as St. Joseph's.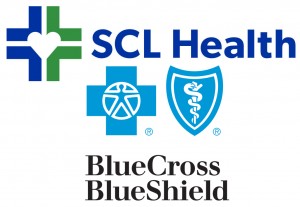 SCL Health brought in $2.4 billion in revenue in 2014 and operates facilities in Colorado, Kansas and Wyoming with 12,400 full-time workers.

SCL first adopted the cross with a superimposed heart in the mid-1970s, the suit claims. In 2014, it added a shade of blue and filed an application with the United States Patent and Trademark Office to register the new logo, according to the lawsuit.

In February of 2015, the suit claims, "BCBS demanded that SCL Health discontinue using the color blue within the Updated Heart and Cross Logo – stating that SCL Health should consider 'transitioning to a color other than blue of its cross mark.'"

BCBS also filed a notice of opposition with the U.S. Patent and Trademark Office, claiming that the SCL Health's new logo violates its trademarked blue cross logo. SCL Health shot back in further filings with the United States Patent and Trademark Office.

In an email from a BCBS lawyer from June included in the lawsuit filing, the BCBS Association said its ownership rights and registrations include not just its full logo, but also the solid blue cross symbol, and extend beyond the health insurance market.

"These incontestable registrations cover not only insurance services, but also healthcare delivery services that have been found to be related and confusing similar to services offered by hospitals," the letter states.

"In addition to the above concerns regarding the BDC Programs, BCBSA has a duty and great desire to prevent its marks from dilution and likelihood of confusion."

A few months later, the suit claims, BCBS threatened SCL Health and said if the logo matter was not resolved, including claims with the U.S. Patent and Trademark Office, "BCBS Association would terminate all existing payer relationships with SCL Health; would terminate all existing Blue Distinction Center relationships with SCL Health, and would never again undertake a commercial relationship of any sort with SCL Health."

That would lead to lower revenue at SCL Health and patient hardships, the suit claims.

A spokesman for BCBS said the organization cannot comment on pending litigation.

Kathryn Reilly, a lawyer with Wheeler Trigg O'Donnell in Denver who filed the case for SCL Health, declined to comment when reached by phone.

4398