A corporate event planning company cut the ribbon on its Denver office earlier this month with five employees hoping to help local businesses blow off some steam.
Chicago-based Kapow Events offers event planning services for custom corporate get-togethers. It also maintains an online marketplace of pre-planned events, such as cooking classes, wine and beer tastings and retail outings.
The company's downtown office is at 1881 Curtis St.
"We're reaching out to Fortune 500 and Fortune 1000 companies in the Denver market to start with," said Cheri Spickard, the Denver office's general manager.
Kapow's marketplace lists 30 events in the Denver area that businesses can register for with a few clicks and a credit card, including a night at RiNo's DADA Art Bar and cocktail-making lessons at The Crimson Room in Larimer Square. Spickard said the office plans to boost that number to 45 within the next two months with events tailored to the area, such as skiing and white-water rafting.
"Right now what we're seeing is about 45 to 50 percent of our business is the marketplace, and the other half is more custom planning," Spickard said.
Spickard said Kapow does much of its custom planning for larger businesses that want to host client appreciation events.
"That's the premise of what our business was founded on," she said. "Client appreciation is what we do best."
Kapow has 17 offices nationwide, and Spickard said the company is opening a London office next year.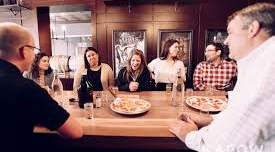 3798