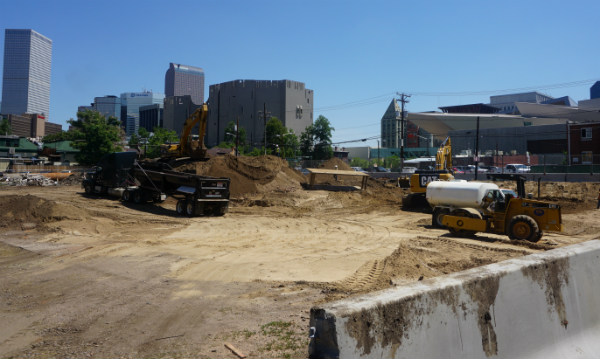 The Golden Triangle is getting 18 more stories of apartments.
EVIVA Cherokee, a 274-unit apartment tower at 1250 Cherokee St., broke ground two weeks ago. It's a joint venture between Denver's Charter Realty Group and Atlanta-based Integral Group.
"I just think it's a wonderful neighborhood in the midtown ring around downtown," said Martin Willie, Integral's development executive for Denver.
"Our site is a block from the Arts Museum, from the Clyfford Still Museum, and on the same block as the new Kirkland Museum."
The EVIVA project has been in the works for a year and a half, Willie said. Residences on Cherokee, LLC, an entity headed by Charter Realty's Skip Ahern, bought the one-acre site for $4.6 million in a pair of 2014 land deals.
Chicago-based private equity firm Wanxiang America Real Estate Group also owns a stake in the EVIVA project. The development also is funded in part through a bank loan, but Willie declined to name the lender.
EVIVA adds 274 units to the booming downtown apartment market. Of those, 48 will be studios, 142 will have one bedroom and 76 will have two bedrooms. The project also will have eight two-story townhomes at ground level. The apartments will sit atop a five-story, 286-space parking deck.
The Golden Triangle is part of Denver's recent residential boom. A 270-unit tower dubbed the Joule is under construction at 1000 Speer Blvd. and new townhome projects also dot the neighborhood.
Willie did not say what rents would cost when the complex opened, but said they would be at the high end of the area's market rate. For comparison, the Joule building is advertising rates from $1,350 for studios up to $6,200 for its largest, 1,500-square-foot two-bedroom apartments.
Willie said EVIVA will be competitive in a growing Golden Triangle rental market for its close proximity to the museums and downtown, as well as the building's design.
"I think it will offer a high level of finish and amenity that is not in the Golden Triangle right now, as well as incredible views with floor-to-ceiling glass in all of the units," he said. "It will also offer an aesthetic that will be attractive to both millennials and empty nesters, as well as baby boomers."
Integral's construction schedule calls for completion in December 2016. The Beck Group is both architect and general contractor on the project. R & R Engineers handled the civil engineering duties.
EVIVA is the first of two major projects Integral is working on in the Denver area. The company also plans to break ground in August on a mixed-income apartment project at 18th Street and Chestnut Place near Union Station.