A futuristic farm in Lakewood that grows leafy greens without old standbys like soil and sunlight is expanding its grow operation 20 times over to feed the local restaurant scene.
Infinite Harvest, a hydroponic farm that supplies herbs and greens to local restaurants, is building out its indoor growing space so it can deliver to more customers within hours of harvest. Renovations to the warehouse on West Sixth Avenue will multiply the company's production area by 20.
"Once we are fully built out, we will expand our product offering to include microgreens like watercress and a number of other varietals based on market demand," said Sean McVay, Infinite Harvest's COO. "If it's within the design specs of this particular facility, we will grow it."
The renovations, funded with a $275,000 investment the company received last month, will turn its 240 square feet of production space into 5,400 square feet by the end of August. The extra room will enable the nine-person company to serve as many as 250 customers by the end of the year, McVay said. It's also looking to hire seven more people to manage production.
"The reality is, we've pretty much hit our capacity for being able to deliver," McVay said.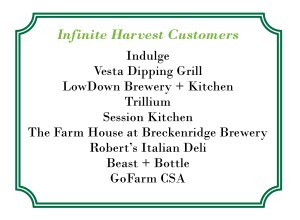 Infinite Harvest's indoor "vertical farming" system generates a year-round supply of produce with only a fraction of the water needed in a greenhouse or on a farm. It delivers arugula, kale and several varieties of lettuce and basil to eight restaurants in the Denver area. It also supplies to GoFarm, a community-supported agriculture program in Golden.
Infinite Harvest's crops are grown hydroponically, meaning the roots rest in water, not dirt, and they don't see the sun until after they're harvested. Instead, their stalks stretch toward a custom blend of red and blue LED lights that bathe the plants in a purple glow.
The neat rows of plants grow in an eight-level system that uses recycled water to yield as much as a greenhouse nearly 10 times the size, McVay said.
The company charges $7 per pound of leafy greens and $12 per pound of basil.
"We are able to get a bit of a premium for the product because of the quality and consistency in the flavor," McVay said. "With the filtration system we have right now, we remove everything except the basic water itself and reapply the specific nutrients that optimize the quality and the flavor of the vegetables."
Even with the higher prices per pound, Infinite Harvest is able to compete with growers in and out of state on both cost and freshness, said Tommy Romano, the company's CEO. Its proximity to the city allows it to keep transportation cost low and deliver produce less than an hour after harvest. And its high-density growing system keeps operating costs down.
"Smaller producers that also do direct delivery are able to compete on a freshness standpoint, but their production per square foot is a lot less," Romano said. "We don't have to charge as much to get the same profit margin."
After the expansion is complete, the company will produce the equivalent of 2 acres' worth of farmland every month, Romano said.
"We are on the front end of a 20-year wave, and once (vertical farming) is commoditized, it will drive the cost of food production way down," Romano said. "It's an emerging industry, and an industry that's here to stay."
Romano, a Wisconsin transplant who took root in Denver in 1999, recognized the potential of vertical farming technology while pursuing a master's degree in bioastronautics at CU Boulder. The curriculum focused on how to build habitats to support human life on other planets.
"I thought, 'Why aren't we doing this more here?'" Romano said. "But the key technologies weren't mature enough to do it."
In 2009, the technology had become more cost-effective, Romano said. He partnered with McVay, a former IT consultant with experience in renewable energy, to create a vertical farming system in a 40-foot shipping container powered by solar panels and wind turbines.
"It was more than just a drawing on a piece of paper," Romano said. "It was a physical representation of what we were trying to do on a larger scale in a fixed facility in a controlled environment. It helped get investors interested and on board with the vertical farm design."
In July 2014, Infinite Harvest secured a $1.2 million investment to purchase a former CrossFit gym and outfit it with the racks, water tanks and lights necessary to grow greens in the warehouse. The staff began planting on Christmas Eve.
In early March of this year, Infinite Harvest filled its first order. There was snow on the ground when the company delivered freshly harvested arugula to Beast + Bottle, an American restaurant on East 17th Avenue, Romano said.
"They have a dinner dish — lamb ragu — that they use the arugula on," Romano said. "They don't usually serve it during the winter because arugula is not available, but they brought it back that day."
Infinite Harvest quickly outgrew its plot of indoor farmland. It's now producing at full capacity to meet demand, and a waitlist of buyers will purchase 60 to 70 percent of its yield immediately after the expansion, Romano said. He expects that percentage to increase by the end of the year as the company solicits more customers.
Around this time next year, Romano said he hopes to buy or build a much larger space in Denver that will run on solar and wind power like the company's shipping container prototype. A grow house 10 times the size of the upcoming facility will enable the company to start producing for grocery stores, he said.
"Our objective is not to sell niche products," he said. "It's to sell a commodity product that everyone needs."