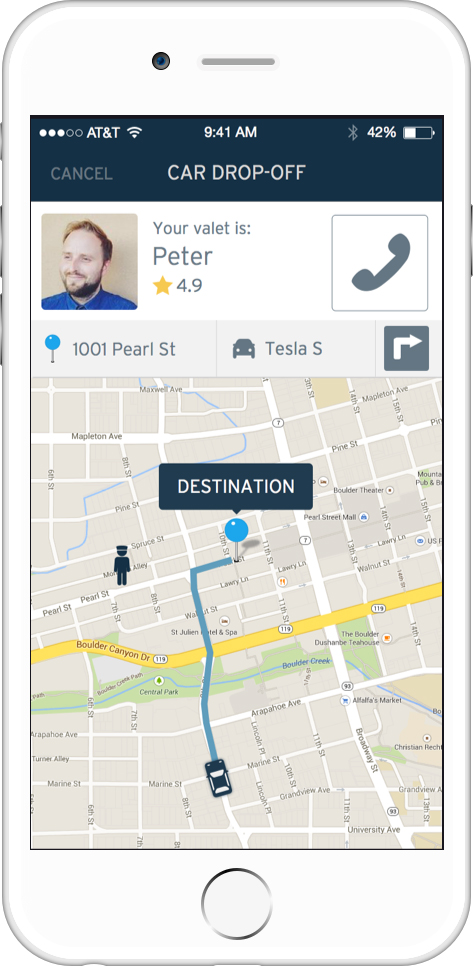 BluCar, an app-based parking service, has pulled into Denver.
While you scan downtown for a place to park, the Boulder startup wants to send a valet to find you and take the car off your hands. And then drive it back to wherever you want to pick it up.
"You could have a meeting at 17th and Wazee and have your driver meet you there," said Tia Mattson, a company spokeswoman. "Then you can go have coffee, have lunch two blocks down, go to the Tattered Cover, open your app have your car brought to you there."
BluCar launched in Denver about three weeks ago and operates in three zones of downtown near Union Station, Larimer Square and LoHi. The BluCar app has been in development for about a year and launched in San Diego earlier this year.
Mattson declined to say how much it cost to get the parking service up and running or how the venture was being funded.
Car owners pay the standard cost of valet parking plus an extra $5 fee to use BluCar. The going rate for valet parking in downtown Denver is about $17, Mattson said, $12 for the valet plus the $5 BluCar fee.
BluCar operates by arranging deals with valet companies in each of its cities. Valets charge their usual prices for parking and BluCar takes the $5 fee. Partnering with the app is free for the valets.
In Denver, BluCar is working with LEG Valet. The startup does not hire any of its own drivers. Instead, it trains LEG employees to handle BluCar requests. Cars are insured through the independent valet company in each location, Mattson said.
Paying $17 to park downtown is a premium Mattson said drivers are willing to pay for the convenience of choosing their own drop-off space and having the car brought back to them. And it saves the worry over tickets or dropping quarters into a meter every few hours.
"If you come down at 11 a.m., you can park for eight hours, and you don't need to worry about feeding a meter or paying when your lot's pricing changes," she said.
Right now the company is operating in Denver, Boulder, San Diego and Beverly Hills and is planning on rolling into Los Angeles and Seattle in a few weeks. The company is also working on expanding its operation in Denver.
"We're right now working to open up Cherry Creek in the next few weeks," Mattson said. "Which is definitely a nightmare for parking for local people."