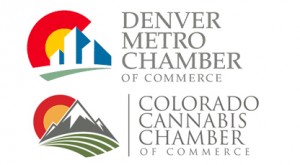 The region's largest chamber of commerce thinks an upstart marijuana chamber's logo looks just a little too familiar.
The Denver Metro Chamber of Commerce sued the Colorado Cannabis Chamber of Commerce in U.S. District Court late last week, accusing the new marijuana organization of using a logo that violates its trademark.
The suit claims that the Colorado Cannabis Chamber copied a red and gold half sun, green swooshed lines under the image and vertical wording on the right. The suit also claims the font, color and overall layout are very similar.
"The only visual difference between the marks is the replacement of the buildings in the Registered Mark with the mountains in the Infringing Logo," claims the suit, which seeks an injunction.
Kelly Brough, the Denver Metro Chamber's President and CEO, said her office first became aware of the Cannabis Chamber's logo earlier this year when someone pointed it out.
"They were confused about if it was us or an affiliate of ours," Brough said. "We've had our trademark so long, we're asking that they not do something that is confusing and so similar to ours.
"And because they're brand new, we didn't think it would have any impact on them since they are creating their brand."
Tyler Henson, the president of the Colorado Cannabis Chamber, which was started last year, said he was contacted by the Denver Metro Chamber and asked to change the logo; he refused.
"They did say it was similar and made a statement that the Colorado "C" was the same, even though you can't own the Colorado C," Henson said when reached by phone, adding that his chamber has registered the logo with the Colorado Secretary of State.
"They say buildings look like our mountains. I don't see similarities at all. I know our logo is trademarked in the state."
The Denver Metro Chamber has asked the court to force the Cannabis Chamber to change its logo.
It also claims that the Cannabis Chamber refers to itself as C4, mimicking the Chamber's use of C3.
Kris Kostolansky with the firm Lewis Roca Rothgerber filed the suit for the Denver Metro Chamber.