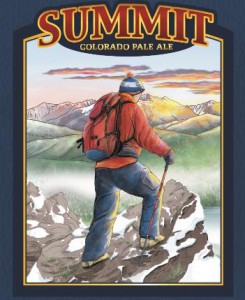 The supply of beer names is running dry.
Twice in the last month, a Colorado brewer has been part of a lawsuit over the name of a beer.
Earlier this week, a Minnesota brewery sued Colorado's Grand Lake Brewing in U.S. District Court over a similarly named beer.
And two weeks ago, BusinessDen reported a similar naming dispute between Fort Collins-based New Belgium Brewing and an Austin brewery over the name "Slow Ride."
St. Paul-based Summit Brewing Co. claimed in its complaint that Grand Lake doesn't have the right to use the name "Summit Pale Ale" and wants the court to bar Grand Lake from continuing to use it.
And it claims in the suit that a December effort settle the issue with Grand Lake over the phone was unsuccessful.
Karen Wood, the owner of Grand Lake, said she thought that phone call was a joke.
"I thought someone was razzing me," she said. "We branded it 'Summit Colorado Pale Ale.'"
Wood said the brewery will retire the Summit name and come up with something new.
Wood said that the Minnesota brewery seems more aggressive than the smaller brewers around Colorado.
For example, she said, Grand Lake and a brewery in Estes Park coincidentally named a beer "Trail Ridge Red" about the same time.
"We took the high road and named ours 'Grand Lake Trail Ridge Red,'" Wood said. "They're on the other side of the mountain, so we all went our merry way."
George Matava from the firm Lewis Brisbois Bisgaard & Smith filed the case on behalf of Summit Brewing Co.