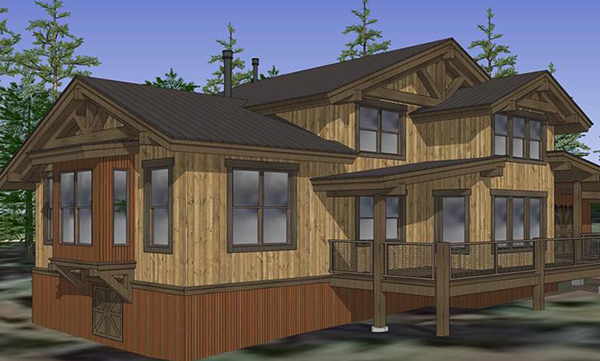 Colorado is getting a new hut for backcountry adventurers.
The Sturm Foundation is donating up to $1 million for construction of the Sisters Cabin on Summit County's Bald Mountain, a 13er that's 5 1/2 miles southeast of Breckenridge.
The impetus for the project, which will begin construction in May and finish in time for a November opening, came from Susan Sturm's passion for backcountry hut trips. Emily Sturm, daughter of Susan and managing co-director of the foundation, remembers her mom taking Emily's Girl Scout troop to a hut. And for the past 10 years, Susan Sturm has taken annual hut trips with her friends.
"We think it's a really incredible asset to the mountain communities," Emily Sturm said. "We think it's an important thing for people to be able to access."
The hut, located at 11,445 feet on the northern side of Bald Mountain, will join four other huts in the Summit Huts Association: Francie's Cabin, Janet's Cabin, Section House and Ken's Cabin. Guests will be able to access the hut on snowshoes or backcountry skis.
Totaling 2,068 square feet, Sisters Cabin will have two hut-master quarters, with enough single beds and bunk beds to sleep 14 people.The cabin will be outfitted with couches, a sink and stove, pots and pans, two bathrooms with composting toilets, a sauna and a woodshed.
Equinox Architecture and Turner Mountain Construction are handling the design and construction.
About 10 years ago, the Summit Huts Association started scouting for a new location for Sisters Cabin. The U.S. Forest Service approved the hut project in 2015.
"This is the first hut to be approved for 20 years," Sturm said, adding that this is the only recreation project the Sturm Family Foundation has funded. "It's an opportunity that does not come along frequently."
Guests can access the hut from November to April by entering a lottery system through the 10th Mountain Hut Association. Sturm said the SHA hasn't decided on prices, but the other four SHA huts cost between $35 and $80 per night.
"I don't really think there's a weekend that they go empty," Sturm said. "It's going to continue to be a real attraction for people, as long as we have the ability to maintain the trails."
The 10th Mountain Division Hut Association lists 27 publicly accessed huts in Colorado on its website.