The doors at Crazy Mountain Brewing Co.'s taproom in Glendale were closed and chained this week, the latest in a string of woes for a business that also was evicted from a brew house in Edwards and a taproom in Winter Park.
The property in the CitySet shopping center at 660 S. Colorado Blvd. has been seized by the Arapahoe County sheriff, according to a notice taped on the window of the taproom.
The property is owned by Sonley Retail LLC, which sued taproom operator World of Beer in February for being behind on an unspecified amount of rent.
Court documents name Jason and Alexander Rappaport as the owners of World of Beer. Neither Sonley Retail or the Rappaports could be reached for comment.
Kevin Selvy, founder and CEO of Crazy Mountain Brewing, said Wednesday that the location on South Colorado Boulevard was not part of his company. He said the taproom operators licensed the Crazy Mountain name last year.
"We weren't responsible in any way, shape or form for that entity," Selvy said. "They weren't our employees, and we saw no revenue from it."
Selvy said he was unsure whether or not his company received any money from World of Beer as part of the licensing agreement, saying it was possible they received a "nominal monthly fee."
AJ Chase, production manager of Crazy Mountain's brewery on Kalamath Street, said the licensing deal was done mostly for brand awareness, and the company also benefitted from selling its beer to the taproom.
Chase said he had seen grumblings on social media from employees at the Cherry Creek location who claimed World of Beers was behind on payroll.
"They gave us a bad rep," Chase said. "We're trying to figure out a good way to separate ourselves from that."
Crazy Mountain has had a bumpy year. The company was evicted in January from its production facility in Edwards, then had to battle with its landlord for access to the equipment inside. In February, Crazy Mountain opened a taproom at the base of ski resort Winter Park; by May, its landlord had filed eviction papers, and Selvy said the company overestimated the amount of foot traffic the site would see.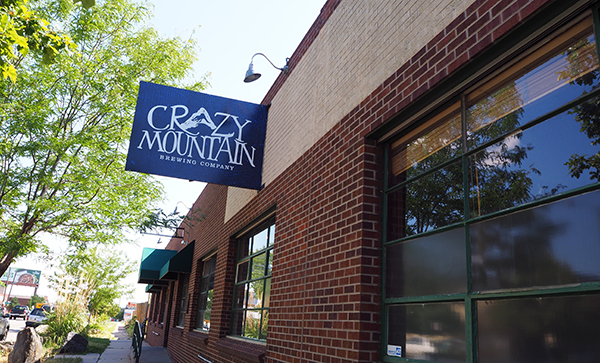 Crazy Mountain has a brewery in the former Breckenridge Brewery at 471 Kalamath St.

27296