Every Sunday, ideally at 6:30 a.m., Frank Rowe and seven buddies golf on a public course in Denver.
They reserve their tee time in advance. New slots open up 14 days in advance, at midnight. So for years, Rowe has had a Sunday routine. He gets up around 4:30 or 5 a.m., books the course for two weeks out, and then heads out to play wherever is on the calendar for that week.
"Generally, I get my pick of Wellshire, Overland and once in a while Kennedy, and unless they have a tournament or something, it's pretty easy to get whatever you want because I'm sort of ahead of the game," Rowe said.
But a wrench was thrown in his routine one Sunday last month, when he wanted to nab a slot for City Park Golf Course.
"There were no tee times available," Rowe said. "I was scratching my head thinking 'How could this be?' Then I realized people are getting up at midnight and booking the tee times the minute they go online."
September marked the reopening of the City Park course, after it was closed for two years of renovations that included flood control measures. Rowe, a member of the Parks & Recreation Advisory Board, was on the community steering committee for the redesign.
Scott Rethlake, the city's director of golf, said that, ever since it reopened, City Park's reservations have sold out within 10 minutes. The midnight start time is nothing new, he said; it's just a function of the booking computer system.
Rowe tried to adjust. He still went to bed at 9:30, but set an alarm for shortly before midnight. With tired eyes, he managed to get a spot — but for 3 p.m., not the preferred early morning start.
"It felt like there were bots taking the other tee times away," he said.
Part of the challenge is that bookings for the City Park course are still limited, so as to protect the new turf. During the weekdays, 20 18-hole reservations are available starting at 10 a.m., and on the weekends, 28 18-hole reservations are available starting at 8 a.m. They both close four hours before dark. Nine 9-hole reservations are offered each day, and start times are the same for 18 holes, but end two and half hours before dark.
Rethlake said every day of the week is just as popular as the last, and a range of 5,000 to 10,000 golfers visit City Park Golf Course's site every day to book a tee time.
Although being patient generally comes with the sport, Rethlake said he's had to give some advice to frustrated golfers who are dying to get on the new course.
"I tell them to get online and log into your reservation account at 11:55 p.m., and just keep hitting refresh on your browser until you see times pop up and grab the first one you see," he said. "Don't be picky because if you're looking and trying to decide for two to three minutes, you might lose out to other people online."
He added, "It's kind of like buying tickets to a really popular concert or when the Rockies made their one and only playoff appearance."
City Park Golf Course plans to have limited tee times until May of next year, and the course is also looking into closing down this winter from November to April to get some maintenance work done and protect the grass.
"Starting in May next year we will have more availability, but I still expect the demand to outpace availability probably through the 2022 season," Rethlake said. "And then in 2023, it might be more normal."
As for Rowe, he said, "midnight is too tough," and he wants to wait until booking times return to normal.
Prior to the course refresh, Rowe and his golfing group routinely visited Pete's Kitchen on Colfax before their usual 6:30 a.m. tee time.
"There's not many things better in Denver than that combination," Rowe said.
But because of the later tee time, they swapped Pete's for the course's new clubhouse and celebrated their return to the course with a post-round beer.
"It was great to get back out there," he said.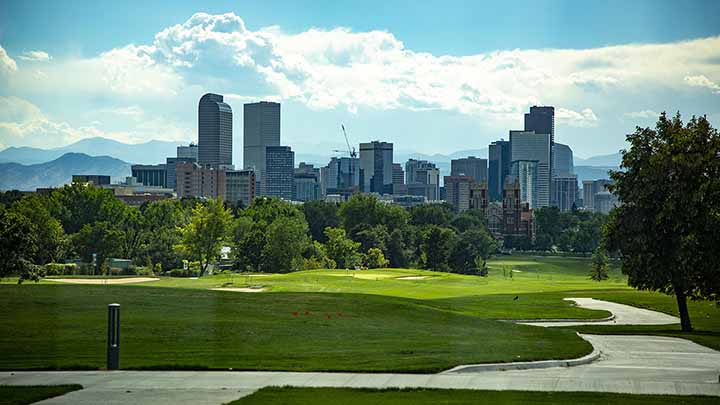 43588