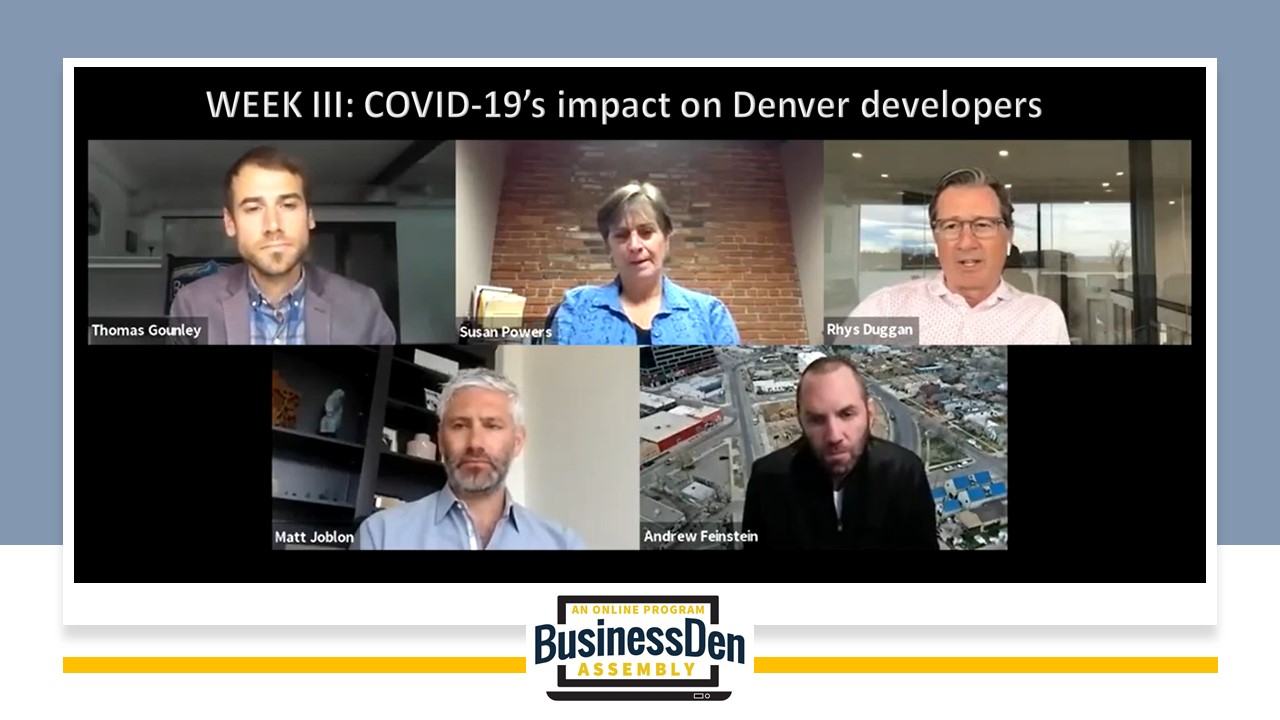 Construction has been exempt from the city and state stay-at-home orders, meaning crews have continued to work on major local developments in the midst of the coronavirus pandemic.
But when it comes to future development — things that have yet to break ground — it's feeling like the end of a cycle.
"Projects that are getting built will obviously get finished, but when I can go out and buy a distressed asset at half the price I can build it new, it doesn't take a genius to figure out what's going to happen there … I think new development is on hold for, pick a time frame — a year, two years, three years," said Rhys Duggan, president and CEO of Denver-based Revesco Properties.
Duggan's firm is planning the River Mile project, which eventually will replace amusement park Elitch Gardens. He was one of four panelists in the third BusinessDen Assembly, an online panel discussion exploring how local industries are navigating the pandemic. Other panelists in the Thursday event, which focused on the local development scene, were Andrew Feinstein, managing partner of Exdo Properties; Matt Joblon, founding partner and CEO of BMC Investments; and Susan Powers, president of Urban Ventures.
In terms of the River Mile, Duggan said he's not deeply concerned, because he sees it as a 25-year project, and always expected it to drag across at least three development cycles.
"I think we've just seen a very abrupt end to that first cycle," he said.
Feinstein's Exdo, meanwhile, is part of a group that's currently building a new hotel in RiNo. It's slated to be completed next spring.
"The good news is we are on time, and the bad news is that we are on time," Feinstein said. "It's going to be a whole new ballgame delivering a hotel with a restaurant with a bar in May of 2021, but I'm glad it's May of 2021 and not May of 2020."
While Feinstein also continues to work on a yet-to-break-ground project that will bring a grocery store to the neighborhood, he said he does expect development to slow in RiNo.
"A lot of the office projects in RiNo, my gut feel is that they're going to be on hold," Feinstein said, adding he personally wouldn't commit to a new project at this time.
Joblon's BMC Investments is now building a hotel and social club in Cherry Creek, and about to begin demolition for a new office building at 240 St. Paul St. But in terms of the broader economy, he said he's not expecting a quick recovery.
"I think we're going pretty deep into a recession and I think it's going to be drawn out, unfortunately," Joblon said.
"You can't put a global economy into a coma for two months and just turn it back on and expect things to go back to normal," he said. "If you're expecting that, you're going to get punched in the face, really hard."
Joblon fears that when things start to open again, Cherry Creek's popular high-end restaurants, many of which BMC Investments invests in, might not be able to survive.
"I think we have real problems ahead of us," Joblon said. "Obviously unemployment is the biggest driver of all of this. Thirty percent of retailers and restaurateurs will not open again, and that's going to create massive retail vacancy and unemployment right there."
Despite concerns for the future, Powers said she's found a positive side to things through Urban Venture's ongoing income-restricted housing projects in Arvada and Denver.
"I do think affordable housing is at the top of the list," Powers said. "It was at the top of the list before the coronavirus. In terms of need, the number of people who will become homeless in addition to the number we already have in this community is hard to get your arms around. We as a community have to figure out how to address it, so the sooner we can build more housing for people and get them off the streets, the better we will all be."
The next BusinessDen Assembly: Apartments, will be held on Thursday, May 14th. Tickets on sale now!