Another developer wants to storm the Sports Castle.
Texas-based Cypress Real Estate Advisors on Tuesday submitted a project concept — an early-stage development proposal — proposing to redevelop a site immediately north of the Sports Castle building at 1000 N. Broadway.
The company is the third to do so since the start of 2019. In February of that year, Atlanta-based Wood Partners submitted plans proposing to build hundreds of apartments both north and east of the structure. Phoenix-based Alliance Residential did the same in July.
Both companies apparently decided not to move forward with their plans.
Denver-based Gart Properties owns the Sports Castle building, as well as the parcels next to it being eyed for redevelopment. The company's president did not respond to a request for comment Wednesday.
A local executive with Cypress also did not respond to a request for comment.
Cypress wants to build a 15-story building north of the Sports Castle, according to the project concept. The site is currently home to a parking garage.
The four-story podium would have some ground-floor retail space and 328 parking spaces, according to the plans. Above on floors five through 15 would be 325 apartments.
The plans don't show any changes to the Sports Castle building itself. The three-story structure was built in the 1920s for the Cullen-Thompson Motor Co. and housed an auto dealership for decades. Gart Bros. opened a sporting goods store in the building in 1971; Gart purchaser Sports Authority ultimately closed it in 2016.
The structure has sat vacant since, although it is occasionally leased for events or by seasonal retail tenants such as Spirit Halloween.
Unlike the plans submitted by Wood Partners and Alliance, the ones submitted by Cypress don't show the company redeveloping the structure at 1001 N. Lincoln St. It sits behind the Sports Castle and also is owned by Gart Properties.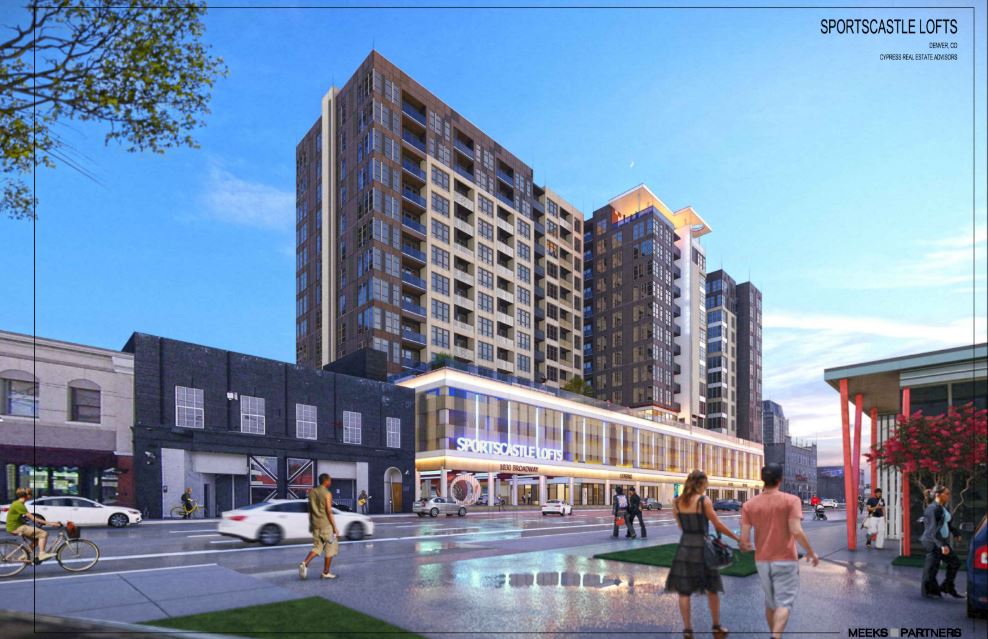 40647