Redevelopment looks to be on the menu at Bonnie Brae Tavern.
An early-stage development proposal that was submitted to the city in late December calls for a three-story building to replace the existing Tavern building at 740 S. University Blvd., as well as the gift shop next door.
The plans bear the name of Joe Jundt, who said he hopes to develop the project with two local partners. He went under contract to purchase the properties about two months ago, and said he's likely about six months from closing on them.
"It was kind of a whisper, off-market type of deal," he said, emphasizing the preliminary nature of the proposal.
"There's a lot of things on a project like this that have to get checked off and resolved to move forward."
The redevelopment plans shouldn't come as a surprise. Last year, BusinessDen broke the news that the Dire family, which owns both the Tavern and the real estate, had applied for a designation that makes it easier to demolish the structure within five years. The request was approved.
Elsewhere in Denver, Jundt is partnering with Boston-based Navem Partners on a proposed 15-story project near RiNo's 38th and Blake rail station. He said he also has worked with the firm on projects in the Boston area. Navem is not involved with the Bonnie Brae proposal.
The project concept, a precursor to a more detailed site-development plan, shows about 16,500 square feet of retail or restaurant space on the ground floor along University Boulevard.
Jundt said he envisions one of the units as a higher-end restaurant, noting Bonnie Brae is surrounded by some of Denver's priciest neighborhoods.
"There's enough people that don't necessarily want to go into Cherry Creek North and fight the congestion," he said.
The plans show 43 condos on the top two floors, ranging from 650 to 1,940 square feet, and four 400-square-foot units on the first floor. But Jundt said those figures are subject to change.
"I think you'll probably see less, and a little bit larger units," he said, adding he envisions a higher-end product with an on-site concierge and ample security.
The plans call for one level of below-ground parking. The total development site is 0.76 acres. Denver's Pappas Architecture + Design drew up the project plans.
Carl and Sue Dire opened Bonnie Brae Tavern at its current location in 1934, and the same family still runs it. The restaurant serves a diner-like menu, with a tangent into Mexican standards and made-to-order pizzas.
Restaurant ownership did not respond to a request for comment. Jundt said there was no discussion of the Tavern moving into one of his building's ground-floor units.
Bonnie Brae Tavern shares its building with a dry cleaner. The building at 750 S. University Blvd., home to Wish Gifts, also would be demolished for the project.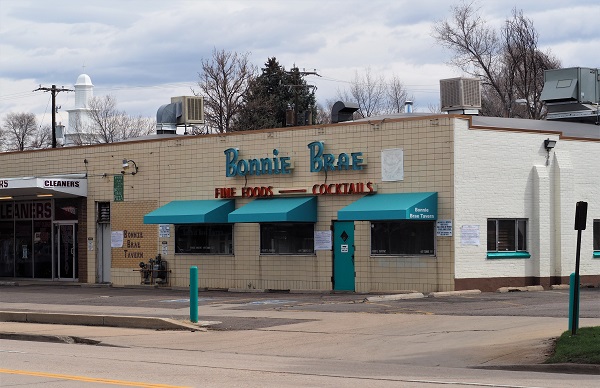 39616