A five-year window has kicked off for the Bonnie Brae Tavern.
A city spokeswoman said this week that the building at 740 S. University Blvd. that houses the 85-year-old eatery has been granted non-historic status, after no one opted to submit a landmark designation application by April 30 — the deadline set when the building's owners applied for the status earlier this year.
The status essentially makes it easier to demolish the building within five years because the property won't have to go through landmark review.
Entities that think they (or another party) might want to redevelop their property, but don't have specific immediate plans to do so, typically pursue the status.
Denver's landmark ordinance allows community members to submit landmark designation applications for properties they do not own, although the city said online that property owners submit the majority of applications.
There's an $875 fee for someone other than the property owner to submit a landmark designation application for review. If the property owner is pursuing the landmark designation, the application fee is only $250.
The single-story building, which along with the restaurant is also home to a dry cleaner, is owned by Dire Investments LLC, an entity affiliated with the Dire family, which has owned and operated the Bonnie Brae Tavern at the location since 1934.
The family also owns the structure next door at 750 S. University Blvd., giving it control of one-half acre in total.
In April, Bonnie Brae Tavern told a Businessden.com reporter through its Facebook page that "the owners are exploring future options & have no further comments at this time."
Michael Dire, who owns the restaurant with a sister and two cousins, later told The Denver Post "whether we're going to remodel, expand, sell … we're just weighing our options at this point." Citing community interest, he said the request "turned into a nightmare, let me tell you."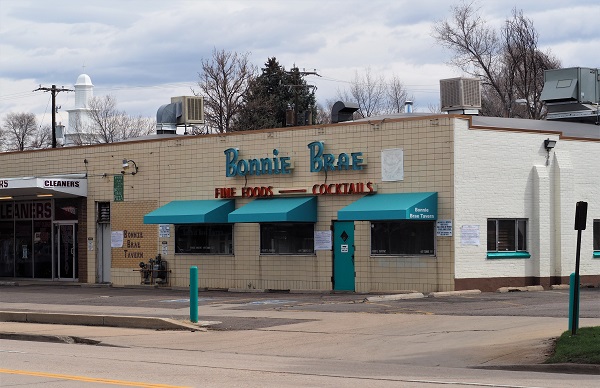 34246