A 1950s-style burger and fries joint is moving to its own brick-and-mortar location.
American Grind, currently operating inside LoHi food hall Avanti Food & Beverage, plans to move to 431 E. Bayaud Ave. in Washington Park in the spring.
"We're trying to go for a cool, backyard-hangout kind of feel for the new place," said Jared Schwartz, American Grind co-owner.
Schwartz, along with Kade Gianinetti and Chad Michael George, came up with the idea for American Grind in 2012 while working together at Linger Eatuary, a mortuary-turned-mortuary-themed-restaurant in LoHi. (Schwartz said George no longer is involved with American Grind.)
"We thought it'd be cool to take advantage of Colorado's changing food scene," Schwartz said. "So we came up with the idea of a '50s drive-in restaurant, but with today's environmental and health standards."
The founders opened American Grind as a food truck in 2014, but pushed it to the back burner in 2015 to focus on opening The Way Back, a cocktail-focused bar and restaurant in Berkeley.
In January 2017, the team revived American Grind, opening at Avanti. Schwartz said the restaurant's lease at the food hall ends in March, so the team is aiming to open its new location in April.
Schwartz said they're using their remaining time at Avanti to prepare for bigger business.
"There's not enough room at Avanti to have a large menu, so we've been trying out new menu items that we'll bring over," he said. "Our new menu is going to be well-rounded, with some more salads and soups, different kinds of sides and more sandwich options."
Schwartz said that all food items, including condiments, are made from scratch in-house. A full meal at American Grind, including a burger, fries and a soda, generally costs around $14.
The restaurant gets its meat from LoHi-based Western Daughters Butcher Shoppe, which works only with humane and sustainable ranchers within 250 miles of Denver, according to its website.
The owners signed a 10-year lease on the new 2,000-square-foot space in Wash Park. They'll be on the ground floor of a 29-unit condo project called Wrigley on Penn, which is under construction.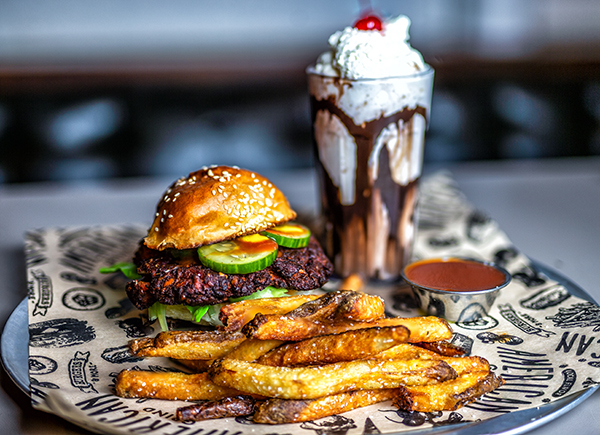 30381