Diana Hall is breaking the mold for helping to treat broken arms.
Her Pueblo-based startup, ActivArmor, makes waterproof, breathable splints for athletes, kids and other patients. And she just stuffed away $800,000 in fresh investment to grow the number of orthopedic clinics where the company offers fitting scans.
"We have five more planned for the rest of the year," Hall said. "That's going to get us to a Series A or a break even. Obviously we want to make this a standard of care. Our entry market is the higher-end orthopedic clinics."
Hall grew up in Pueblo and attended the Colorado School of Mines. She's spent her career in both chemical engineering and software engineering before moving back to Pueblo, where she stared volunteering and noticed that some children were wearing casts that weren't able to get cleaned.
"They often came in with these filthy casts on, and they couldn't wash their hands," she said.
One boy in particular had permanent scarring from his cast. Hall, 43, decided to measure the boy's arm and then 3D printed him a breathable splint.
"The doctor called me and asked if I could make some more of them," Hall said. "The second the doctor asked me if I can make some more of them, I thought, 'I have all the skills and the background that led to this.'"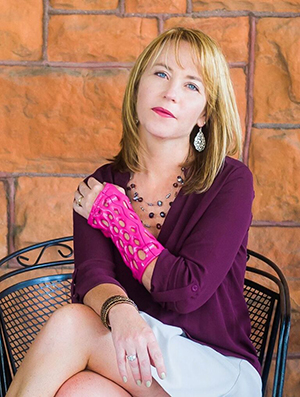 Investors in ActivArmor's recent round included the Colorado Department of Economic Development and the City of Pueblo.

"Over the next three years, we're planning on hiring 30 CAD designers at least in the Pueblo area," Hall said.

The startup currently has the ability to fit patients for an ActivArmor cast in seven clinics located in Gunnison, Texas, New York, Scottsdale, Colorado Springs, Los Angeles and Quincy, Ill.

Any doctor can prescribe an ActivArmor cast, but the patient has to go to one of the startup's seven clinics to get scanned. It takes 30 seconds get an accurate scan of a patient's injured limb. The scanning machine costs $20,000. The splint is also FDA-approved.

ActivArmor's corporate office is in Pueblo and manufactures the splints in Canon City. The startup has two full-time staff and two part-time employees, in addition to 45 contract sales reps around the country.

While traditional casts are not waterproof and cannot adjust easily for swelling, ActivArmor works well for athletes. For example, they can swim and apply ice while wearing the splint.

"I have an Ironman triathlete who said they would have lost their entire season (without it)," Hall said.

Hall also said her other main demographic is patients with chronic conditions like diabetes or carpal tunnel, and of course, children.

"It ruins their whole summer if they have a cast on," she said.

27602