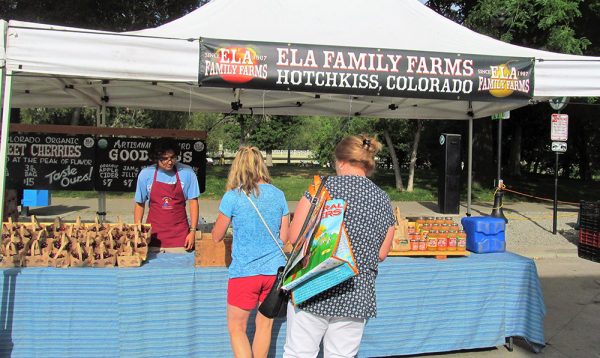 Every Friday from mid-July through mid-September, Steve Ela packs up his truck in Hotchkiss and drives four-plus hours to the Front Range.
It's peach season, and he transports the farm-fresh fruit from Colorado's Western Slope to nine farmer's markets along the Front Range as well as to stores, restaurants and roadside stands statewide. "The majority of our fruit we take over ourselves," Ela said.
In 2016, which many farmers described as a bumper year, Colorado produced 13,600 tons of peaches worth $27 million, according to data from the U.S. Department of Agriculture. The state ranks seventh nationally for peach production.
Locally grown peaches have gained special status among Colorado consumers.
"It's one of those items that we produce in Colorado that consumers just clamor for," said Wendy White, marketing specialist with the Colorado Department of Agriculture.
Pop-up peach stands are a frequent sight in Denver later in the summer. David Cox, owner of Palisade Produce, has found success selling peaches on busy street corners — including over 20 stands in the Denver area. He talks with local business owners, many of whom agree to let him sell peaches next to gas stations or outside their stores.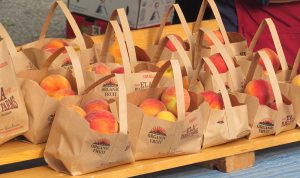 "We do pop-up markets all over Denver," Cox said. "We sell door-to-door delivery in Boulder and other locations as well."
Colorado peaches are grown primarily in Delta and Mesa counties. The Western Slope town of Palisade hosts an annual peach festival in mid-August.
Many peach orchards remain family businesses.
"I remember as a 5-year-old my dad sending me out to blossom-thin," Cox said, referring to the practice of cutting blossoms from trees so they don't produce more peaches than farmers can harvest.
Ela is operations manager at Ela Family Farms, a fruit farm located just outside of Hotchkiss on the Western Slope. The farm has been in the family since its founding in 1907.
To outsiders, Colorado might not seem like a prime spot for growing fruit. But unique environmental factors have made the peach business viable for over a century.
"Our temperature swings from day to night — we get these wonderfully hot days, in the 90s, maybe even 100, and then at night we're down in the 60s or even 50s," Ela said. "That back and forth really helps create the sugars in the peaches and develop some of the flavor."
At the same time, farmers also have to contend with fickle Colorado weather. A late frost can substantially damage a crop, while too much heat can cause the peaches to ripen too quickly —making it difficult for farmers to gather enough labor to harvest.
Ela said he expects his peach trees to produce at about 75 percent of capacity this year. His farm hires 18 seasonal employees each summer to handpick the fruit.
"We definitely had some frost this spring," he said. "The good thing for us is with a lighter crop, we didn't have to spend as much money thinning."
Fruit farms typically grow many varieties of peaches. Ela Family Farms grows 14 types. Different varieties ripen at different times during the summer, but most are harvested between July and September.
Farmers that sell their own unprocessed agricultural products in Colorado aren't subject to the state's retail licensing requirements. Individuals that re-sell peaches, however, are required to obtain a Farm Product Dealers License.
Ela enjoys working farmer's markets himself.
"We really specialize in trying to get the most flavorful peach we can into consumers' hands," he said. "What we really want is when we are at farmer's markets, when we are giving out tastes, we literally want to hear, 'Oh my god' from our customers."