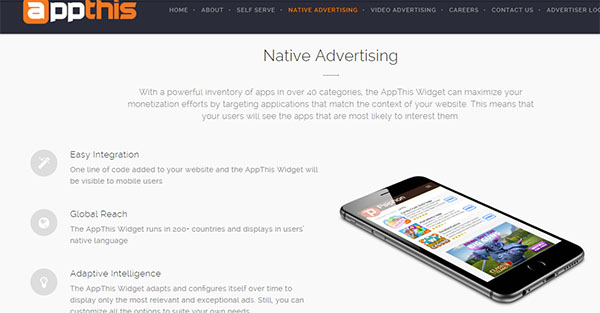 After opening an office in Tel Aviv, a Denver ad-tech startup has pocketed $1 million to build features it hopes will attract customers with a smaller budget.
AppThis, whose software inserts ads promoting smartphone applications and games. and onto the mobile versions of websites, is targeting $1.5 million total in a capital raise it disclosed to the SEC on May 11.
Co-founder and President Mike Fitzgerald said most app developers don't have a lot of money to promote their apps, so bidding for cost-per-click space on a place such as Facebook can be prohibitively expensive.
That makes them ripe for AppThis, he said, which charges by the download and is developing a self-service feature so that customers can make marketing campaigns without help from AppThis staff.
"We're working with the top 2 percent of the 2 million app developers currently on (Apple's) App Store and Google Play," Fitzgerald said. "The self-service platform is going to let us work with the other 98 percent."
AppThis, which maintains an office at RiNo coworking space Industry, aims to match an ad for a mobile app with a person likely to download that app and make in-app purchases. One person browsing CNN might see one static ad inserted into their feed, said Fitzgerald, while someone else on the same site could get a video ad for a different app instead.
For each download, the developer pays AppThis a fee (Fitzgerald said it ranges from between $2 and $5 in the United States to around 50 cents in India), which it then splits with the website where the ad appears.
Fitzgerald said the company makes 70 percent of revenue outside the United States. While AppThis already had a small office in London, he said setting up in Tel Aviv keeps customers close and competitors closer. Fellow ad-tech companies IronSource, ClicksMob and Digital Turbine all have offices in Tel Aviv.
AppThis is not as highly capitalized as many rivals. While IronSource has raised more than $1 billion and Digital Turbine had an initial public offering on NASDAQ last year, this month's action is the first time AppThis has disclosed a capital raise to the SEC.
Fitzgerald was chief technology officer and chief operating officer at Kansas City-based Adknowledge before starting AppThis with co-founder Jim Mansfield in 2014. Mansfield founded the ad-tech company Intela in Boulder and Vayan Marketing Group in Boca Raton, Fla., before becoming CEO of AppThis.
The company places ads for more than 50,000 apps, Fitzgerald said, and it can place them on thousands of mobile sites, from a CNN.com to a smaller blog bundled in a network of blogs.
Besides its self-service technology, the 42-person company also has "made a big investment in video advertising infrastructure," Fitzgerald said, in part so that app developers can show viewers, say, an animated clip from their game.
And to keep growing, Fitzgerald said AppThis plans to hire "dozens of engineers" in the next few years – whether adding to the 30 employees it has in Denver, or adding staff in Tel Aviv and London.