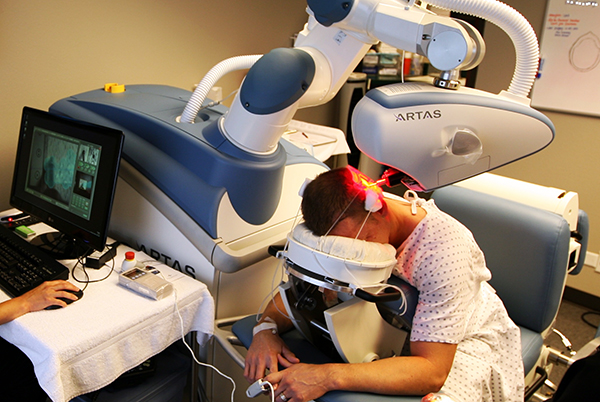 Editor's note: A previous version of this story included a headline calling the procedure "No scar". It has no linear scar, but does include small circular scars where the hairs are harvested. 
In a battle against the receding hairline and receding hairline haircuts, Dr. James Harris now has a patent on a device to make sure customers have less skin in the game.
"People's lives are really affected by their hair loss," said Harris, founder of the Hair Sciences Center and inventor of a hair-transplant procedure that is less invasive than the standard method.
Harris's work is one part surgeon, another part shrink to men in their late 30s to early 50s that make up the majority of patients.
"They look in the mirror, they like everything else they see, they're in good shape," he said. "But they can't do anything about their hair."
So Harris, 58, plays head doctor in both senses of the term, talking each patient through the options available to take back control of his head and its hairs.
Harris has been there, too: Hair loss changed the direction of his medical career. After he started going bald in his 30s, he gave up his medical practice as an ear, nose and throat doctor. He trained for three more years to master hair-transplant surgery, doing his first surgery at age 40.
At the time, that meant removing a strip of skin that is still growing hair from a patient's head, stitching up the gap, removing individual follicles from the skin strip and re-inserting each hair on a balding patch.
Harris underwent the surgery himself. But in 2002, two years after opening Hair Sciences Center, he started to tinker with a less painful way to harvest hair.
It took three years to perfect his innovation, a blunt tip that enables a doctor to pluck individual follicles without taking out a strip of skin. Like a tiny cookie cutter, the tool removes hair follicles by punching an outline around them and then pulling them out. Harris applied for a patent on the tip in April 2005.
Because doctors remove hairs from many smaller spots rather than remove a piece of skin from a single part of the head, the procedure doesn't leave a scar.
Harris operates one clinic in the Denver Tech Center with 13 staffers, including another doctor. The clinic does between 30 and 40 surgeries every month, Harris said, adding that 20 percent are out-of-state customers. And Harris still answers every patient's email to the general inbox himself.
Most surgeries cost between $7,000 and $12,000, depending on the methods used to extract and re-implant hairs and how many grafts are needed. (Harris points out that an alternative, like a hairpiece, can be an annual $6,000 investment.)
Harris is also a partner in the company that assembles and distributes his device, HSC Development, which brings in $300,000 to $500,000 a year – a fraction of the revenue from the medical practice. He also licensed the tip to a robotics manufacturer, Restoration Robotics, in exchange for an equity stake.
Transplanting hair can mean traveling back in time, Harris said. A patient might want to rewind the clock or just pause time to stop hair loss. Harris also asks patients to consider how they'll look in the future.
"This medical condition, hair loss, is progressive," Harris said. "Anything I do to him at 29 has to be natural when he's 39, 49 and 59."
And when Harris predicts the future of his profession, he sees stem cells and growth factors – not plucking and planting.