Troy Guard has a 60-second meal for downtown diners who eat lunch on the run.
Guard, 44, signed a lease this week to open one of his Bubu quick-service, noodle bowl restaurants on the first floor of Republic Plaza.
Bubu serves bowls of proteins such as chicken, steak, salmon and tuna on a bed of veggies, noodles or rice. Guard said his employees can make your lunch in a minute or less for around $7.
"I think it's going to be a good location because of the huge population density around there during the day," Guard said. "People only have a short time frame to eat lunch, and we're giving them something that's close, fast and walkable."
Guard, who operates nine restaurants, hopes to open the new 900-square-foot Bubu this fall, he said.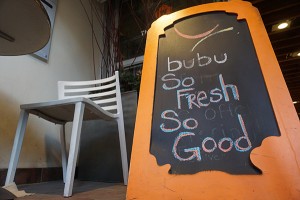 He'll spend about $360,000 renovating the space, he said. The area is a former food court that housed 12 restaurants prior to a $5 million overhaul that added a co-working space and gym.
The new spot has a built-in clientele, Guard said – the 3,000 people who work in Republic Plaza's 56 floors of offices. Bubu will be the only restaurant on the ground floor, Guard said.
He also plans to offer breakfast items such as smoothies and granola.
Guard hopes to open five Bubu locations in metro Denver in the next few years. He said the concept works best in high-density neighborhoods where customers can take their food to go or eat quickly.
The new spot will be Guard's second Bubu-branded location after he opened a spot on Larimer Street in 2014.
Guard said starting May 7, he'll renovate and rebrand a Bubu that opened last year at 7559 E. Academy Blvd., in the Lowry area, as an Asian restaurant named Lucky Cat. Guard plans to spend $100,000 on the renovation and to open Lucky Cat on May 17.
The restaurant will feature Asian fare such as dumplings and sesame chicken priced between $15 and $20, Guard said, and will have a full bar with a sake-dispensing machine.
"We love the location and the layout, but we don't have the client turnover – the check average is low, so you need a lot of turnover for it to make sense," Guard said. "Lucky Cat is going to be more of a sit-down place.
"The only reason I didn't do Asian with my first place (LoDo's TAG Restaurant, opened in 2009) is because I didn't want to get pigeonholed into one style," Guard said. "Now it's come full circle."
Guard plans to open six more restaurants this year in neighborhoods such as the Highlands, Sunnyside and Stapleton.