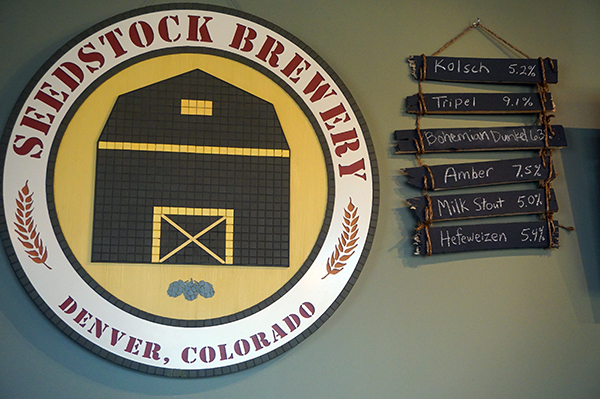 Sixteen months after planting itself in a renovated garage building, a new brewery has sprouted on West Colfax Avenue.
Seedstock Brewery opened this month. It's a 2,400-square-foot, farm-inspired brew house that longtime home brewer Ron Abbott co-owns with his brother, Jason Abbott, and Frank Thomas.
The brewery was 1½ years in the making after Seedstock leased the space late in 2014. Seedstock has one of two retail spaces at the new retail development, which sits at the corner of Colfax Avenue and Lowell Boulevard.
Abbott said the other side of the building, a former auto garage, remains available for lease. Abbott told BusinessDen last spring that brewery startup costs reached six figures, but would not surpass $1 million.
The Abbott brothers and Thomas handle brewing duties themselves, and work with a seven-barrel brewing system. Seedstock had six beers on tap Friday afternoon. The IPA has been the most popular brew so far, Abbott said, though he prefers the Bohemian Dunkel himself.
West Colfax has gotten two new breweries in the last month or so after WestFax Brewing Co. opened in early March next door to Casa Bonita.
And with Seedstock open less than a month, Abbott said he's already expanding his operation. He's ordered two new serving tanks to give the brewery more room to age beer.
To read more about Seedstock, see this BusinessDen profile from March 2015: